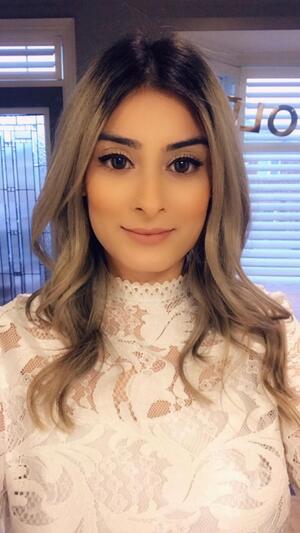 Neatu Kharaud is one of six ACA Instructors who were nominated for the Career Colleges Ontario Excellence in Teaching award. Neatu is an Instructor of Personal Support Worker at the Mississauga campus and this is her story.  Surrounded by the beautiful British Columbia mountains and landscape is where Neatu's life began. Growing up in Abbotsford, as young girl Neatu remembers playing with her dolls as if they were her patients - she vividly recalls asking her Mom for Band-Aids so that she could "fix them up".    The crossroads came after high school - was it teaching or nursing that called to her?  With family in health care the choice was clear it would be nursing. Soon after Graduation, Neatu pursued a teaching role as a Personal Support Worker Clinical instructor, and so began the complimentary joining of the two passions!  While continuing to teach, Neatu worked as a Medical/Surgical nurse at MSA General Hospital.
In 2008, Neatu was married and soon relocated to Toronto. Settling in a new city brought new challenges, but Neatu was soon working as a Nurse Manager/Associate Director of Care at a long-term care facility and she taught at both Humber and Seneca College. Once Neatu's family expanded, juggling motherhood, teaching and working as a nurse became difficult. Neatu longed for consistency and yearned to expand her abilities as a teacher and mentor because this is where she truly felt the happiest.
Neatu began full time teaching at Algonquin Careers Academy in the Personal Support Worker program and had this to say: "Joining Algonquin was an amazing time in my life. I felt at home and welcomed - the part that I always felt was missing is now fulfilled".
Neatu believes strongly in bringing the world to her students, so that they can experience as much as they can before they leave her.  Guest lecturers, such as The Alzheimer's Association, Advanced Geriatric Education, and The Nurse Next Door are just some of the professional collaboration that Neatu brings to the classroom. Neatu is continuously exploring new ways to enhance the students learning.
 For example, Neatu has developed her own version of the popular game show Jeopardy.  Neatu uses this playful approach to a module review and not only are the students getting a thorough review, but they have a BLAST while doing it! The students enjoy putting the books aside for the moment and changing things up, and letting loose to play a fun interactive game; it really brings the students closer together.
Volunteering and Community engagement have always been important to Neatu and she has taken many volunteer roles including:
Menno Homes for seniors,
Habitat for Humanity, and
Community Elementary schools -Teaching Infection Control. 
How does Neatu feel about her teaching? "I have made a significant impact in the lives of more than 150 students, helped them fulfill a dream and for that I am forever humbled"  
We asked some of Neatu's students how they felt about their experience?
"Every day I was excited to come to class, to learn and grow.  I have achieved my dream and can hold my head high, I am a PSW!"
"I always felt welcomed, Neatu made it feel like home, like a family"
Neatu makes certain that her students are prepared for the responsibility of a being a Personal Support Worker, by ensuring that her students understand that caring for our aging population comes with great accountability, and it is not "just a job". This strong teaching mantra has transcended her students into many jobs in Long Term Care, Retirement homes, Hospitals, and private care all over Ontario and Quebec.  It is these successes that keep Neatu energized and always willing to share her kindness and gentle approach to teaching the caregivers of tomorrow!