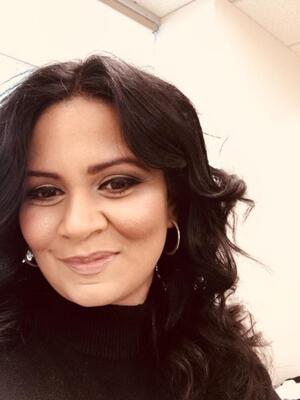 Holly VanDrine is one of the six ACA graduates nominated for the CCO Outstanding Graduate Award. Holly is a Mississauga graduate of the Paralegal program. Leaving her home in India at 23 years old and immigrating to Canada was a difficult decision to make for Holly. Newly married, new country and leaving all of her family support behind, Holly knew that the next few years would be difficult.  Shortly after arriving in Canada, Holly recalled the guidance from her loving father about happiness and her own ability to control it.  Holly knew that only her courage to make a change would bring her happiness - soon after Holly was divorced and on her own. Holly had a few years of self-exploration which she needed in order to heal and find her direction, find her happiness. Holly had never been an entrepreneur so deciding to pursue a business was a new direction for her. Holly founded and developed a group called Maximum LiVing. Through this group, Holly connected with who she really was - the person who was strong and independent so many years ago. Holly's goal for Maximum LiVing is to bring people together and facilitate communication. Through Holly's initiative and the success in planning the events held through Maximum living, attendees found it easy to talk to each other, make new friends and enjoy a healthy lifestyle.
It was through Holly's work with Maximum LiVing that she came to realize that she was self-directed and had abilities that she had never before recognized. Holly has been described by her Maximum LiVing participants as a well-established business owner - as someone who is an advance scout. 
By this time Holly was working for a large company and her role had a vast amount of exposure to law. This was new to Holly and she really enjoyed it.  Tragically at a company event, Holly sustained a life changing head injury, an injury that would again steer her ship in a different direction.  Holly endured extensive physical therapy to overcome this injury. Holly's determination was fierce and she propelled forward and enrolled in the paralegal program at Algonquin Careers Academy.  Holly attended night classes while working full time.  Holly's therapists did not feel it was the right time for Holly to attend classes so soon after her injury but through spiritual guidance and true grit, Holly gave it all she had.
Holly was fully aware of the challenges that were to come and she knew it meant that she had to get ahead of the potential risks, recognize the pitfalls, and develop strategies and confidence for returning to a group. With the support of her two very gifted specialists and the right people around her, she made it.   Not only did Holly excel at the program, she was the recipient of several academic achievement awards and graduated with honours. 
After completing the program Holly registered for the Law Society of Ontario exam.  During the months leading up to the exam Holly spent her time preparing and attended the Algonquin run preparatory workshop. Every Saturday after writing the exam, Holly sought spiritual guidance and recited the same prayer.
Life after completing school for Holly has just really started; she hasn't stopped praying and strategizing on her next stage of her life. Two weeks after passing the LSO exam, Holly was offered another job with a substantial financial increase and since that time has had multiple offers. Holly has decided to focus her efforts on an area of practice for which she has passion, workplace injuries.
Holly has throughout her life been fortified by tragedy - Maximum LiVing was born from personal heartbreak and she became a paralegal after her injury because she felt she needed a voice and to rebuild and become stronger.
What's next for Holly? 
Holly feels fortunate to have had the opportunities that have afforded her the chance to make the difference in her life and the lives of others.  Holly has collaborated with her alma mater in India and has begun a personally funded scholarship program offering students who could not afford an education the chance be given one.
Holly has forever left a long-term mark on the staff and students at Algonquin.  Some of the staff had this to say:
"Holly truly transformed in her 10 months with the college, her confidence grew as she did.  There was not a time that Holly didn't stay and help a classmate that was struggling and she would even meet them on weekends outside of the school to offer academic assistance."
"Holly is an inspiration! She has had difficult road blocks that for many would have shaped who they were to become. Holly used those as fuel and pushed forward to become who she was always meant to be."
Words of advice from Holly:
"Life defining moments happen, embrace those moments and use them for all they have to offer.  My goal is to "bring it" every day - to class, to court, to life!"
Wishing Holly good luck in being chosen for a CCO Outstanding Graduate Award!