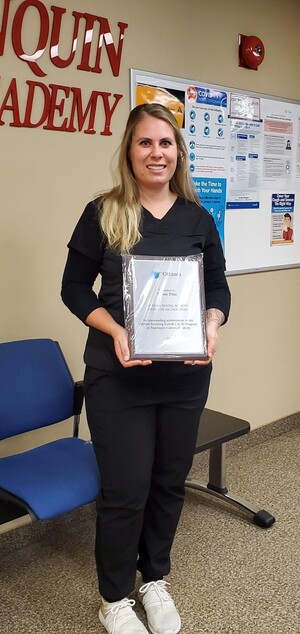 Have you ever wondered what it would be like to get your intra-oral dental assistant diploma? If you're seeking a hands-on career in the healthcare industry, this might be the career path for you. At Algonquin Careers Academy, Levels 1 and 2 of the Intra-oral Dental Assisting program can be completed in just 48 weeks, including a 2-week full-time practical placement. If you're interested in learning more about the process of becoming an intra-oral dental assistant, you'll find it helpful to hear about the firsthand experience of an intra-oral dental assistant student. 
Today, we're speaking with Jolene Pilat, a recent graduate of ACA's Intra-oral Dental Assisting program, about her experience training to become industry certified. Jolene was recently awarded the Ottawa Dental Society Award of Recognition, about which she says: "It felt really great to be recognized for all the hard work I put into completing this program. It took a lot of help from family and friends, being a mom of three and homeschooling them myself, and driving four hours a day to the lab was exhausting. When I got the award and my diploma I knew all my sacrifices and long days had paid off!" Jolene, who has previously worked in the dental field, has been working as a dental assistant at her new office ever since the day of her placement. Below, discover more about her time at ACA.
Why Did You Choose to Pursue Intra Oral Dental Assistant Training?
For Jolene, the decision to get her intra oral dental assistant diploma was influenced by her previous experience in the field. "I took Dental/Medical Office Administration 11 years ago and really enjoyed the dental aspect of the program. I then got hired at a dental office to work in their front office and in the back helping with Sterilization," explained Jolene. "Within a very short time, I started helping more and more in the operatory and eventually started working as a chairside dental assistant. I LOVED my job but lacked the certificates for HARP and intra-oral. That is when I decided to go back to school to get my level 2."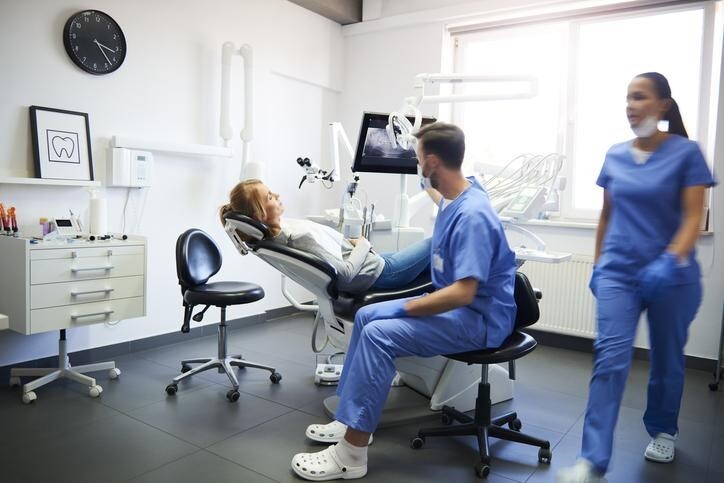 With previous experience in the dental field, Jolene decided to enroll in an Intra Oral Dental Assisting program 
When it came to choosing a school to complete her training, Jolene chose ACA for a few reasons. "I chose to study at ACA because I am already a graduate from the Dental/Medical Office Administration Program, so I was familiar with the college already. My biggest factor in choosing this school was that I was mostly online. I live a one-way, 2-hour drive from the school, and the commute was the biggest factor in getting my Intra Oral Level 2. With the class being online I was able to stay home and reduce my commute greatly," said Jolene. 
What Was a Typical Day as an IODA Student Like? 
As someone who began her training during the height of COVID-19, Jolene's experience in ACA's Intra Oral Dental Assisting program may look different than some. "I started my class during the pandemic, so I was online for the majority of my program with 1 or 2 days in Ottawa at the lab then gradually increased throughout our program. Every morning our teacher sent out a zoom invite, and we logged in at 830am. It was interesting at first as everyone tried to be online and have children at home as the schools were closed for children for in-school learning. All of our class got very familiar with each other's children as they made frequent appearances! Our lab days were really fun, being hands-on in class made the day go by quickly."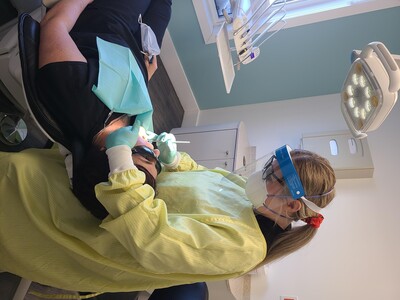 Jolene's practical training at ACA prepared her for work as a dental assistant
How Did the Program Prepare You for Your Current Role?
Jolene, who is currently employed as a dental assistant, found the intra-oral, patient hygiene, x-ray and impressions courses she took at ACA most helpful for her current role. As for her favourite thing about the IODA program, Jolene says it comes down to the flexibility permitted by the online delivery of the courses. "I was able to stay home with my kids, and have the afternoons to study," she said. "My teacher was also a big influencing factor. She was very knowledgeable and supportive as everyone tried to navigate being at home while online. She was always there when you needed and made sure she took her time to help the class understand and answer questions." 
When it came to challenges, as a mother of three, Jolene had her fair share. "The most challenging aspect of the program was trying to balance home life and school life. Dedicating time out of my day to focus on studying and doing my assignments," said Jolene. "There were many times where I lost motivation, but knew how rewarding my career will be and was able to get back on track." 
Get certified with a program at Algonquin Careers Academy!