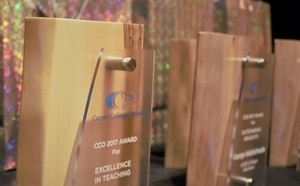 Career College Ontario (CCO), a provincial association for member career colleges in Ontario, sponsors an Excellence in Teaching Award. The nominees are from career colleges all across Ontario. The awards will be presented at the CCO Conference Gala Dinner on Thursday, May 30th.
Nominees in the Excellence in Teaching category have:
put forth extraordinary efforts in their particular field of teaching
strived to continually build positive relationships with their students, and
positively contributed to their community.
In a series of postings over the next few weeks, we will be featuring our instructors who have been nominated for the CCO Excellence in Teaching Award. ACA nominations for the Award are:
Asfiya Rahman, Ottawa Pharmacy Technician diploma program
Irina Parsova, Mississauga Pharmacy Technician diploma program
Michelle Godin, Ottawa Personal Support Worker program
Ian Bell, Mississauga Paralegal diploma program
Christine Gregory, Mississauga Medical Laboratory Assistant/Technician diploma program
Congratulations to all of our instructors who were nominated for the award and wishing all of you the best of luck in achieving it!