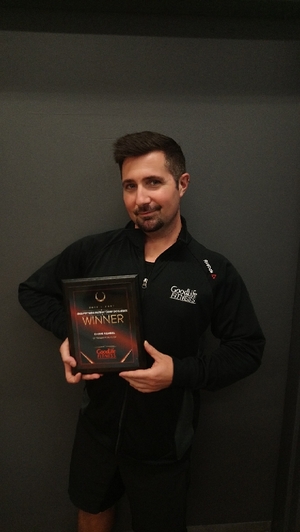 CONGRATULATIONS TO Chris Reabel (ACA instructor of Fitness and Health at the Ottawa campus) for winning the prestigious GoodLife Instructor of Excellence Award! This award is given to those who shine above the rest and there were only 6 awarded across Canada - Chris was one of them. The requirements to win this award are a page long and Chris met them all. 
What his supervisor says about Chris:
"As a Group Exercise instructor Chris is the excellence of World Class. He is fully branded with impeccable form and attentive eyes, providing a caring and fun filled environment for his members.  As an Ottawa instructor, Chris shares his passion for teaching with the trainees he mentors always in peak attitude and maintaining the integrity of Goodlife Fitness Clubs and our programming. Chris truly loves teaching and as shared by the many testimonials and comments I receive from members, whether it is the fragile egg or seasoned member he goes above and beyond to make all feel valued in the class.  Members often come up to me and share their appreciation for Chris and his classes.
Chris works hard at keeping in peak personal fitness, always willing to open his doors to welcome Group Fitness Managers and instructors for team building events creating a happiness and trust within our Team."
What makes Chris a great employee of Goodlife also makes him an excellent instructor of Fitness and Health Promotion at ACA. The next class starts on October 16, 2017 so start looking into it now at:  http://www.algonquinacademy.com/programs/healthcare/fitness or call an Admissions Representative at 613-722-7811.