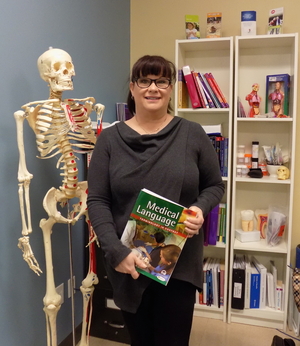 Darlene Vail has been an instructor of Medical Office Assistant at the Ottawa Campus since October 2016. Darlene takes her job very seriously but finds that you need to show the fun side as well. Therefore when she showed up one day in a Tyrannosaurus Rex costume, her fun side had prevailed.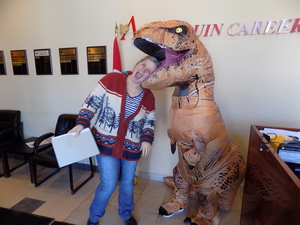 Darlene Wants More Students!
Darlene loves to teach and wants more students. Since she is the best MOA instructor in Ottawa, she challenges you to come to our campus, take MOA and learn what you need to know to be a success. Darlene says there is a great atmosphere and energy at the Ottawa campus, the right combination of people and it feels like a family there. Come and experience this as a student! Darlene feels we are the best place in Ottawa to take Medical Office Assistant. Next class start is April 3.
Darlene's Training
Darlene has had considerable training in the nursing field. She then went to a private career college in Ottawa and took her combined Medical Office/Laboratory Assistant. She teaches her students to do ECGs and Phlebotomy as they go hand in hand with MOA.  Graduates could work in medical offices and medical laboratories, dental offices and hospitals.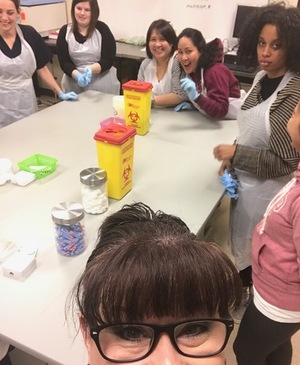 Darlene's Work History
When Darlene graduated, she started working for Med Reach, a small clinic that did house calls. It was open until midnight and as the newbie she had the 4 to 12 shift and did this for quite a while. Another stop in Darlene's career was Med Reach A-1 Medical. At one point here she ran all 5 clinics keeping them all running smoothly. She did this for quite a while, and then took a year off to work for husband's company.
In 2012, Everest was looking for a MOA instructor – Darlene felt that although she had been in MOA, she had no teacher's degree and did not apply. But her husband put her resume in without telling her. She got an email, phoned them, and they hired her because of her excellent experience.
The Changeover to Instructing
Darlene found being instructor at Everest to be a totally different ball game than being an MOA. You have to put on a show and there is a drama side to some of the student issues. Her class had gone trough 5 or 6 instructors and she was struggling. Then they moved into the medical office procedures module which she knew inside out – it was this that turned the students around. Her confidence in her knowledge and ability to teach this showed through.
It was not until she went to her first graduation, that she realized what an impact she had as an instructor and how she changed students' lives. She saw the students getting their diplomas, walking on cloud nine and saw their parents or spouses or children in the audience so proud of them. It was then that she became addicted to being a teacher and realized that this is her calling.
Darlene Connects with ACA
When Everest closed it was devastating to her because she lost her ability to change lives. About a year later she came into contact with us at Algonquin Careers Academy and she was hired on as the MOA instructor and got back to doing what she loves to do. Darlene sometimes finds that the difficult students can make it more fun - it is a challenge to get them to smile. With teaching there are good days and bad days and you go with it. It can take one student to knock down your feng shui but she will wash her hands and plan for tomorrow being a better day.
Why should people take MOA?
Darlene feels that the medical field is going to explode with the baby boomers and the numbers needing health care continuing to increase. There will be more delegation to MOAs and more call for MOAs in the field in the next few years. The Medical Office Assistants are getting jobs upon graduation. If you are overly picky you may not get hired immediately – you have to be willing to work part time, on the weekends, in the evenings, but once you have your on-the-job experience, you will be able to get the position you want.
Why take MOA at ACA?
We have instructors with practical experience and the theory along with excellent teaching experience. That practical experience helps the students to grasp the concepts. "What would you do if a doctor says this? This is what you do and I have done it." So when our students get out into the real world, they know how to handle it! Darlene helped write the textbook on MOA so understands the theory well.
The community colleges have a two-year program for the same diploma. Why wait two years to work in the doctor's office and do the same job that you could do in 33 weeks. At the community colleges there are extra courses you have to take such as English, Math, and other things that do not apply. At ACA you are getting down to the hard-core subjects – the courses required to do the work. You have focused on these MOA courses from the start to the finish and all of the credits you take at ACA will be useful on the job.
What our Ottawa students say about Darlene and the MOA program (reportedly without any donut bribes!)
"Darlene knows her subject very well and is able to impart her knowledge and experience to the class. She is very knowledgeable on being an MOA."
"Darlene is a fun, energetic teacher who starts each day fresh and ready to teach her students."
"It is a beautiful thing when a career and a passion come together. Thank you Darlene for showing us everyday that is possible."
"Mrs. Vail is very enthusiastic, personable and knowledgeable. She has made me feel accepted and understood. Mrs. Vail is a positive, driving force for MOA students.
"Darlene is one of the best instructors I have had in all my experience of going to school. She has boosted my confidence 100% and really nurtures me as a student."
"Darlene has a lot of patience. She is great at giving examples with MOA. She is always there to listen and help anytime you need her."
"Darlene is a very nice, very approachable person and teacher to everyone. She is very good at teaching us about our course."
To experience what these students have, call the Ottawa Campus at 613-722-7811 and register for the MOA class start on April 3, May 15 or June 22, 2017!