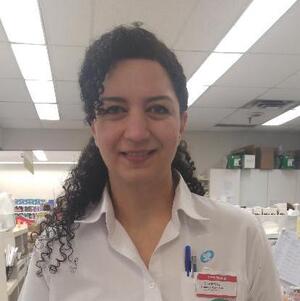 Congratulations to Christine Fanous our Ottawa Graduate of the Quarter for Fall 2017!
Algonquin Careers Academy is proud of our contribution to helping people change their lives. Presenting successful grads with this Graduate of the Quarter award is our way of showing it. If you feel there is an ACA graduate who is deserving of this award (including you), we would love to hear from you – send an email to Rebecca at the Mississauga campus (rebecca@algonquinacademy.com) or Sarah at the Ottawa campus (sarah@algonquinacademy.com).
Now Back to Christine!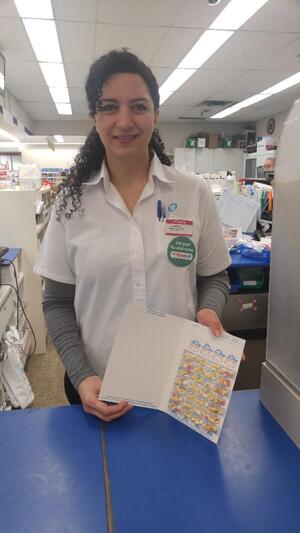 Christine took our Pharmacy Technician diploma program and graduated in 2012. She is a Registered Pharmacy Technician who is now working full time at Shoppers Drug Mart as well as teaching for us on a regular part time basis.
How Did Christine Get Here?
Christine and her family came to Canada from the Middle East. She started in the pharmacy field in Jordan 21 years ago – she became a licensed Pharmacist and is still a registered pharmacist there. Christine worked for one year in Jordan as a pharmacist and then moved to Saudi Arabia with her husband. While there, Christine taught chemistry but her most productive move was to give birth to triplets! Her career was on hold at this point for a few years. When the triplets were four years old, the family left for Egypt where they lived for a few years before returning to Saudi Arabia for a six year stint. During this time, Christine who also had a passion for art, did some teaching in that field.
When she arrived in Canada, Christine went to various art exhibitions and spoke with different artists about making a living in art - they encouraged her to go back into Pharmacy and keep art as her hobby. This was the same advice given to her by her father many years ago when she first decided to become a Pharmacist!
Christine and ACA
Christine loved Pharmacy when she did it in Jordon so she decided to go back to it. There is no Pharmacist degree program in Ottawa so Christine looked into what other possibilities were available. ACA was the best option with the Pharmacy Technician diploma program so she registered, studied hard, and graduated and this changed her life! It put her back on her career track and she is loving pharmacy again. Christine found there was quite a difference from what she learned in the Middle East. She had to start over to learn the laws and regulations of Canada and the medications that are available here.
Christine loved the courses at ACA – the program is very similar to the courses of a pharmacist except there is no clinical and therapeutic counselling. When she went into placement, it was like being home – there was no steep learning curve because the courses she took were all relevant. She had to learn the billing of prescriptions and insurance as all of the systems are a little different but she knew the basics. All of her training was relevant and the pharmacist at her placement was very impressed that she knew so much already.
Taking the Pharmacy Technician program at ACA gave Christine contacts with different pharmacies and opened up opportunities for her to find job. She did her hospital placement at Riverside Hospital and her retail placement at IDA. She graduated in 2012 and worked as a Pharmacy Assistant at Loblaws for 2 ½ years while studying for her license. She got the opportunity through her teacher at the time, Shah - he recommended her for the job.
Once Christine passed her exams and became a registered pharmacy technician, Loblaws already had a pharmacy technician on staff at her location so they were looking to place her in another location. In the meantime, she found a job at Shoppers Drug Mart near her home where she currently works. She has worked there for about 3 years as a licensed Pharmacy Technician.
Were the exams difficult? They were too long but not too difficult – Christine was barely able to finish on time. The practical one, OSPE, was not that difficult, but she was not sure what to expect. Now at ACA we do mock exams so get some practice prior to the actual exam – students are now trained in how to handle the different stations.
Christine Now
Christine's job at Shoppers Drug Mart entails all the duties of a licensed pharmacy technician. This includes taking verbal prescriptions, taking and providing prescription transfers, doing a technical check of filled prescriptions and checking blister packs. This might require faxing prescribers for refills or clarification, communicating with patients and helping them with different issues such as billing problems. She enjoys her work very much.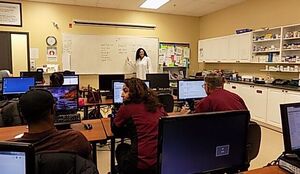 Christine recently started officially teaching at ACA in April 2017 - unofficially she did some guest speaking or fill in classes for Asfiya. Now she does one class a week - she teaches almost all of the courses, math, pharmacology, anatomy, compounding, sterile products, retail pharmacy, etc. This teaching helps her as well by keeping her current - she will review all of her old information and look into the new information on the internet. Her experience in the pharmacy is useful for both her and her students. She loves seeing the interest in their eyes when she tells them about some situation at the pharmacy. 
Christine's art is on hold for now – she does only one or two drawings per year as she does not have a lot of time. If asked, she will do a portrait of someone or something. She does all kinds of art – pencil, pastel, water colour, landscape and portraits but she really enjoys drawing people.
To round off what is happening with Christine at this point, her triplets (two girls and a boy) are all in university this year.
Christine's Words of Wisdom
Christine has two maxims that she would like to pass on. One, if you have a passion for something, you will do well in it so make sure you chose to study or work at something you like to do.
And two, you should keep learning throughout your life. Christine did not have the chance to work so much in Saudi Arabia so she learned karate, took more art courses, and did aerobics. She kept busy learning different things. Learn a language, learn computer skills, take art or music - everything you learn will help you in the end.
Christine's Plans
Christine's next step may be to go back to Pharmacy school. Because she is a pharmacist in Jordan, some of her courses will be transferred to her Canadian pharmacist studies. She will send her transcripts to the appropriate organization and find out what she would have to do to qualify to become a Pharmacist here. Her husband and family are very supportive of the idea.
Final Thoughts
Christine adds finally that she encourages more people to take the pharmacy technician courses as Pharmacy Technicians are in demand – the pharmacy world is changing and pharmacy technicians are playing a major role in this changing world.
Thank you Christine for your hard work and persistence to change your life and for letting us play a part in it!
Readers: to find out more about our programs: http://algonquinacademy.com/programs