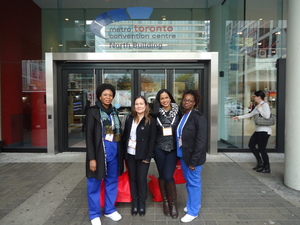 Our MOA class went on a class trip to the Health Achieve Conference to learn about the latest in health care technology and techniques. Our MOA students tried out the various gizmos and gadgets and learned about some of the state-of-the-art health care trends. We also had some fun along the way!
"With a complex and ever-changing health care system, embracing evolution is the only way to change it for the better. With over 50 educational sessions featuring 200+ high-quality speakers and over 300 exhibitors from across the globe, there are limitless opportunities to learn, share and evolve at HealthAchieve. Because learning matters, sharing matters, and evolving matters." HealthAchieve Website
To find out more about our Medical Office Assistant program: http://www.algonquinacademy.com/programs/healthcare/medicalofficeassistant
Cindy Ramnathsingh recently joined ACA Mississauga as our MOA Instructor. She brings to the table excellent college level instructing experience, recent office management experience and a positive attitude!