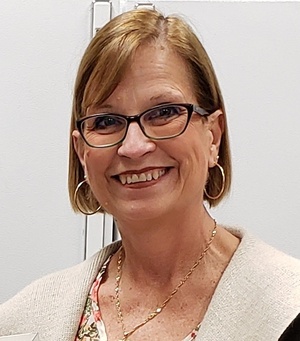 Michelle Godin is one of the six ACA instructors nominated for a CCO Outstanding Instructor Award. Michelle is an Instructor of the Personal Support Worker program and the PSW Program Coordinator in Ottawa. Michelle is an exceptional instructor. Throughout her 17 years of teaching, her dedication and work ethic has changed the lives of hundreds of students.  She believes that learning is a life-long journey, and believes that learning should be fun!  She is creative in her teaching approach to ensure that students understand the key concepts.  For example, she has utilized puzzles so that students can get a better grasp of the body systems, has made up a dance for the circulatory system and incorporates a "spa" day while teaching personal hygiene.
She is also very adept at using actual events and incidents to illustrate and reinforce the learnings in the program curriculum.  She brings in current headlines and opens discussion up on topics such as opioid addiction and Medical Assistance in Dying (MAID).
When the students are doing their clinical placements, Michelle remains very hands-on and present to support them.  She is always ready to assist where required, setting the example of a true health-care professional. 
Michelle believes that you need to be there for the students every step of the way – through humour and tough love, she is committed to the success of every one of her students. 
Michelle is often described by her students as "professional", "an inspiration", "thorough", "supportive", "firm but fair" & of course as an "excellent teacher". Michelle's students respect her and look to her for leadership and guidance.
Outside of work, Michelle Godin has been the Director for the Senior Choir at Queenswood United Church, Ottawa, Ontario consisting of 18 active church members for approximately 22 years.
She has raised approximately $15,000 for cancer research by participating in a colon cancer research 10km run, where her team "Oh My Godin" was understandably proud of their contribution. And Michelle continues to run at least 5 km outdoors every week as well as going to the gym three times a week where she does over 5 kilometers on the treadmill.
Not only is Michelle active but she is a woman of many interests and talents: An avid traveller Michelle has visited Tuscany, Vienna, Prague, Budapest and is scheduled next to tour Spain. A mother of 3 (2 girls and 1 boy) Michelle still finds time to knit handmade sweaters and blankets as well as to devote time to her 4 ½ years old granddaughter.
Michelle's passion and commitment to her program is an inspiration to both her students and her colleagues as she demands high standards from herself and always encourages others to achieve their best.
http://algonquinacademy.com/programs/healthcare/personalsupportworker