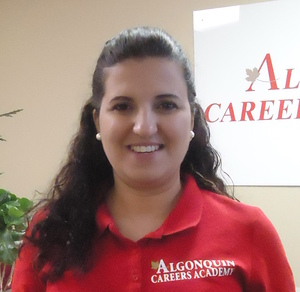 Congratulations to Dalia Putros for being a wonderful student, graduate and now employee of ACA! We have presented her with our Mississauga Graduate of the Quarter award for the Summer of 2017. Dalia graduated in 2015 with her Medical Office Assistant diploma. Dalia is currently the Office Coordinator for the Mississauga Campus of Algonquin Careers Academy.
How Did She Get Here?
Dalia and her brother left Iraq for Turkey to get away from the war. Dalia arrived in Canada on Aug 14, 2003, 14 years ago just as the power went off for 3 days. Her reaction, after leaving war torn Iraq? AGAIN? EVEN IN CANADA!?
Dalia took ESL, and other continuing education courses, and found it very hard in the beginning. At the start, she didn't like Canada at all. No language, no friends, no family and home sick. Others where she lived would go off to work and she spent two months by herself watching TV to try to learn English. At one point she became determined, "if I was in Turkey and could learn that language then I can learn English"!
Her first job was as a cashier at Tim Hortons. She was there for 3 years when one of her clients offered her a position at a large company. "You have good customer service skills. Always smiling and welcoming the customers." Another reason the customer noticed Dalia is that he had been speaking Turkish with his family and she could understand and speak to them in the language. This was a big step for Dalia to take but she made the move.
She became Cash Allocator where on daily basis she was doing data entry while working in the credit department. She dealt with cash, wire transfers, posting batches of Canadian and US currency. She got some very good experience here for about 7 years. A family emergency resulted in her leaving that job to take care of a member of her family.
While she was off, Dalia decided she wanted to go back to school for a brighter future. She had no opportunity to go to college in Iraq because of the war. To pay for school, Dalia took a part time job as a school bus driver to work around the 4 hours a day of class time.
Dalia finished her program and went on placement at an MCI doctor's office. There was no job opportunity at that doctor's office when she finished her placement so she started searching for a job immediately. She put her resume online in the MCI system and received an email from human resources. She was hired by MCI at the Etobicoke location full time and is still working with them as a part time job. She was also hired as a part time MOA in a different clinic.
Dalia always had a feeling that she would be part of the ACA team – she knew she would be coming back. When the job opportunity of evening receptionist at ACA came up, Dalia applied for it and got the job. She worked part time in the evening starting in June 2016. One month later she was offered the full time position of Office Coordinator.
Dalia and ACA (as a student)
Dalia decided to go back to school and ended up going to Everest for two months before it shut down. She was glad to make the transfer to ACA.
Dalia would get up early, do her bus route, come to school to learn, do her afternoon bus route and then study the whole night. She loved it and learned a lot - it was a really good experience and she got her diploma in less than a year.
Dalia learned a lot from that class including how to work within the dynamics of the diverse group of students that made up the class. Career and Employment Services was the class she liked the best. She had never had that experience of putting together a resume and cover letter, learning how to search for a job, and preparing for an interview - this is what she had been waiting for.
While at school, Rebecca, the Campus Director, would often talk to her or ask her something. She was always surprised that the Director would take the time to get to know the students. She liked Rebecca's personality, smile, and welcoming open door.
Dalia Now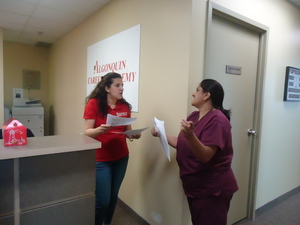 If you call the ACA Mississauga campus you will here a cheerful voice saying "Good morning, Algonquin Careers Academy, this is Dalia speaking, how can I help you?" Answering phones, although an important part of Dalia's role, is just one aspect of it. Dalia is on the front line of ACA - customer service starts with her from the welcoming of our students, prospective students and others as they get off the elevator to ensuring they get to the right people and places. Prospective students she sends to an admissions advisor. New students she gets them what they require to start off on the right foot. Existing students she smiles at and makes them feel welcome. Dalia orders student textbooks and supplies, she enter grades, issues transcripts and diplomas after being signed, helps other teams at the college, adds students to the systems, does the filing…
Dalia also promotes the continuing education workshops courses such as intramuscular injections. Another important role is that Dalia is our person-on-the-spot who watches out for and takes photos of fun and interesting happenings around the campus for our social media activity. Dalia is an integral part of the smooth running of the Mississauga campus.
Dalia LOVES THE ACA TEAM. She will always be there for them. Everyone is so good to her. She loves working in this friendly environment. Students will come to her and tell her how good she is and that makes her feel great. They don't always know what she has been through, but if they did, it would be encouragement for them to keep going to class. Dalia is looking forward to the opportunity for further professional development and to grow with ACA!
Words From Rebecca, the Campus Director
Dalia is kind and has a natural nurturing style when dealing with students and staff.  Her soft-spoken approach makes people feel welcomed and confident that they are in good hands!  Dalia is an exemplary self-starter, who knows what needs to be done, always eager to please and willing to help support the team when and where she is needed.
Dalia's Words of Wisdom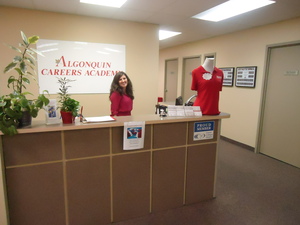 Never give up on your dream. Always believe, no matter what happens, that there is something good behind it. Dalia left her country and family to go to Turkey and from there, to try to get to Canada or Australia. While in Turkey, she learned the language which then led to her finding a job opportunity in Canada. From that job, Dalia gained much experience. Everything happens for a reason.
Encourage woman. There is not much in the way of women's rights where she came from. She would encourage young women to go back to school to educate themselves. Learn a lot, don't be shy, ask questions, it is up to you how much you want to take from the words of your instructors. Nothing will stop you. Never look back, always look forward!
Dalia believes this verse from bible about woman applies very much to her. "She is clothed with strength and dignity; and she laughs without fear of the future." Proverbs 31:25 
Dalia's Reaction to the Grad of the Quarter Award
"Thanks for this great opportunity. It's my pleasure to represent my college and my work place. "
Thank you Dalia. Algonquin Careers Academy is very lucky to have you as our Office Coordinator!
For more information about our Medical Office Assistant program: http://www.algonquinacademy.com/programs/healthcare/medicalofficeassistant​