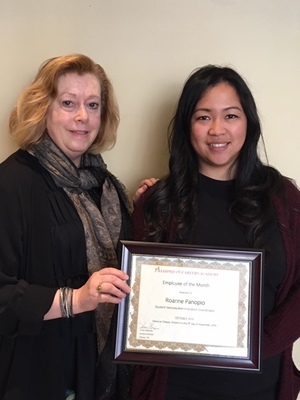 Roanne Panopio was chosen  as this month's Employee of the Month due to her outstanding commitment, leadership and customer service.  She is a former honour's graduate of both our MLAT and PSW programs at ACA and is now our Student Services/Administration Coordinator at the Ottawa campus-she is integral to the operation of our front service desk area and it functioning so effectively.  Roanne is a team player, and pays attention to detail - she is quick and efficient and is always there to lend a helping hand to our Admissions Advisors, our Registrar, our Operations Support Manager, our Instructors, our Campus Director, and of course to our Students on the campus.  Roanne welcomes all students and visitors to the campus with a smile and always remembers everyone's name - she is the perfect Algonquin Careers Academy Ambassador!
Roanne's knowledge and ability to fulfill more than one role (she also teaches Student Success Strategies for us) has greatly benefited our team and her commitment to completing multiple tasks on time makes her a great campus asset. Described by her peers as "reliable", "versatile", and "multi-talented" Roanne truly is a "one of a kind" and we are very fortunate to have her on our team!
Thank you Roanne for everything that you do!