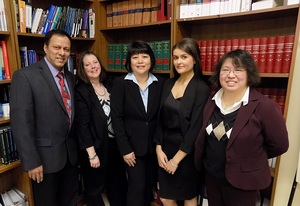 Our Ottawa Paralegal class had their Career and Employment Strategies course this week and ended the week with a mock interview. All week they prepared their resumes and cover letters and practiced their interview answers. On Friday they had a very serious "mock" (oxymoron) interview and they came in full interview garb. That is a fine looking group of Paralegals with some excellent skills!
For more about the paralegal diploma program, click on: http://www.algonquinacademy.com/programs/law/paralegal
Rima El-Zoor, the author, is the Admissions Representative for the Ottawa campus of Algonquin Careers Academy. If you are interested in finding out more about any of our programs in Ottawa, call Rima at 613-722-7811.