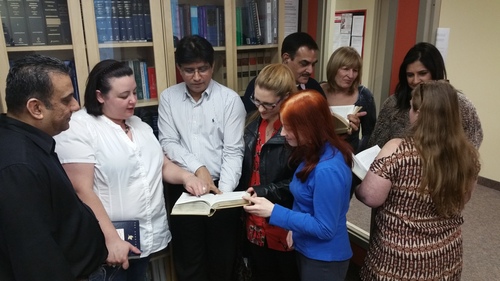 Over the last few years one of our most popular programs has been the paralegal program. Our program is accredited by the Law Society of Upper Canada.  It takes place daily in the mornings and in the evenings. Our goal is to prepare students for the challenges of entering the paralegal profession in Ontario.
What makes our paralegal program one of the best in Ontario is our students and the diversity of our student body.  
Mature students are often apprehensive about committing to a full time college program for a variety of reasons.
Real life work experience
Many of our students are mature students with real life work experience. This experience is relied on extensively during class debates, assignments and advocacy exercises. Mature students are able to contribute and provide thought provoking insight and perspective. We value the experiences of our mature students particularly in how it fosters a dynamic learning environment. Their experiences are invaluable to the younger student body as well.
External obligations
A common concern amongst mature students is balancing the rigorous of a full time college course along with their external obligations. Many of our students have young families or are working in the afternoons or evenings. Often, unforeseen circumstances can arise as well.
At Algonquin our staff and instructors are mindful and attentive to these obligations. In addition, we strive to assist our mature students with these obligations. We understand that challenges can arise such as an ill family member or personal appointments in the day.
Years being out of school
Many mature students will express concern that they have not been in a class for years or even decades. They are reluctant to enroll for fear of failing or not being able to keep up. Again, our legal instructors are experienced and also diverse in age and background. Our legal instructors are very well versed in adult education and the fact that people learn at different levels.
The staff and instructors in our legal program will offer alternative options to assist students with schedules or learning styles. Our staff also make themselves readily available for in-person consultations or by email access.
Our goal is to provide our paralegal students with competitive learning environment designed to accommodate mature students. In other words, we don't want our students to feel shy about coming for help.
Finally, our material is designed with the mature student in mind. The curriculum takes into consideration that some students will not always be able to complete readings and assignments on due dates. Many of our legal instructors will assist those students with a genuine concern.
 Fear of being old and not being hired
Mature students are at times concerned whether they will be able to compete in the job market. Also, some students will express concern with respect to lack of interviewing and or resume drafting skills.
Thankfully our employment specialist personnel assist students in preparing for the real world. They will provide seminars to students in how to approach the job search, draft resumes and prepare for interviews. To alleviate concerns, students will undergo mock interviews.
Overall, our employment specialists work with mature students to ensure they are better prepared to face the challenges of the real world.
If you would like to know more about our paralegal program at our Mississauga or Ottawa campus, check out our program on our website https://www.algonquinacademy.com/programs/law/paralegal. Please call us today.