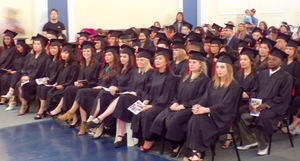 Ever wonder who makes up the student body of private career colleges in Ontario? Career College Ontario (CCO), the professional organization that represents private career colleges in Ontario, commissioned a study by Environics Research to answer this question.
Private career colleges (PCCs) are colleges that do not receive government funding. We offer many of the same diploma or certificate programs as Community Colleges but the timeline is more compressed so our students will graduate from the same program in a shorter time. PCCs programs are very focused on the skills required to do the job upon graduation.
According to the CCO website (http://www.careercollegesontario.ca): "The career college sector in Ontario consists of approximately 43,000 students. Annually, it produces more than 30,000 graduates at a minimal cost to taxpayers, because the sector receives no direct operating funds from the government."
This study by Environics Research* was designed to help us understand better the students who are part of our market. Personally and individually, we know all of our students but it is very interesting to see the demographics across Ontario.
This is a synopsis of what our student population is all about:
10. Disability: 12% report having a disability (physical, learning, mental illness)
9. Visible Minority and Indigenous Status: 30% self-identify as a visible minority, 4% self-identify as indigenous
8. Ethnicity: 32% White/European, 19% East Asian, 9% South Asian, 9% Black/African-Canadian – we have a very diverse group of students
7. Language: 38% first language is neither English nor French
6. Current Employment: 39% are working while in school
5. Living Situation: 50% have children, 12% are single parents
4. Immigration status: 52% are first-generation immigrants (born outside of Canada)
3. Age: 57% of our students are 31 years old or above
2. Sex: Female 69% Male 31%
1. Prior Education:
High School - 87% completed high school
Previous Post Secondary - 33% attended university, 29% attended community college and 17% attended private career college – the vast majority of these students have received a degree, diploma or certificate prior to attending their current programs at private career colleges
And there you have the top ten characteristics of people attending private career colleges in Ontario. You can imagine the incredible work ethic of our students who are attending school, have families to care for, have jobs while going to school, are being educated in a second language and are facing other adversity - this is why we are so proud to help our students succeed!
Whether or not you fit in these categories, we would welcome the opportunity to show you what we have to offer – you will be in good company at our college, Algonquin Careers Academy. Please have a look at the programs on our website http://www.algonquinacademy.com/programs and call us at Mississauga 905-361-2380 or Ottawa 613-722-7811.
* Environics Research, Student Demographic Study, Prepared for: Career Colleges Ontario, Topline Report – June20, 2017 - all of the statistics are based on this report