ACA offers a variety of Continuing Education workshops including Injections: Subcutaneous, Intra Dermal, Intra Muscular. An injections workshop was held at the Mississauga campus on Saturday, January 14. It received some very positive comments about both the workshop and the instructor, Suki Kaur RN, BScN, CDE.
Topics Covered in this workshop include: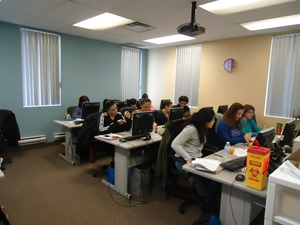 Administering Intramuscular Injections
Using sterile technique
5 Rights of Medication Administration
Aspects of informed consent
Medical orders
Common abbreviations
Parts of syringe
Hands-On Lab
Drawing-up medication
Land marking and Injecting
Documentation
Dosage calculations
Correct technique
Certificate upon completion
Review questions and answers
Learn the necessary skills and technique for administering SC, IM and ID Injections using sterile technique
The entire list of extracurricular workshops can be found at:  http://www.algonquinacademy.com/programs/continuingeducation. For more information about any of the continuing education programs, please call the campus nearest you.
Mississauga 905-361-2380  Ottawa 613-722-7811