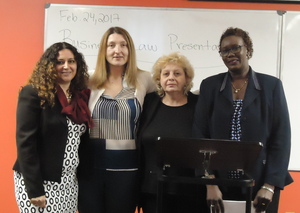 Last week Supreet Kareer, our Mississauga campus Education Manager who is also an ACA Paralegal graduate, was teaching the the Business law course as part of the Business Management diploma program. On Friday, the students worked  on their assignments of Business Law Presentations. The presentations all went smoothly - the students were well prepared and dressed up very professionally. Hire our Business Management grads - they are prepared for anything!
If you would like to learn more about our Business Management diploma program at either the Ottawa or the Mississauga campus, click on: http://www.algonquinacademy.com/programs/business/businessManagement
Dalia Putros, the blogger, is the Office Administrator, for our Mississauga campus.