OACC (Ontario Association of Career Colleges) set up a meet and greet session for the Private Career Colleges to meet with the Members of Provincial Parliament including the Premier of Ontario, Kathleen Wynne; the Minister of Training, Colleges and Universities, Brad Duguid; and the opposition education critics.  OACC sent out a request for students to address the group, and Algonquin Careers Academy suggested Ian Bell. Ian was one of only two student speakers selected from across the province. He gave an impassioned speech emphasizing the necessity, importance, and effectiveness of Career Colleges, as well as the crucial role they serve in our society.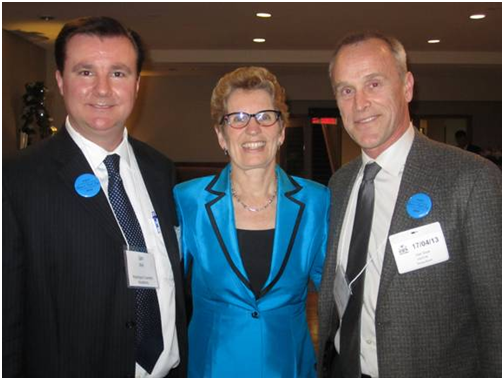 From left to right: Ian Bell, Premier Kathleen Wynne, Des Soye
Ian Bell is a graduate of the Paralegal Program at Algonquin Careers Academy and has recently returned to us as an instructor. He also has his own thriving Paralegal practice.  Ian did an excellent job of telling his story and raising awareness of the need for Career Colleges. He had the group laughing at his witticisms and drilled home the message that Career Colleges are critical and effective alternatives to universities and community colleges. Having options is essential for students considering higher education.