Congratulations to Jeff Bogaerts, our Ottawa Graduate of the Quarter – Summer 2016!
A Bit About Jeff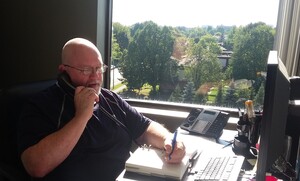 Jeff started his studies with Algonquin Careers Academy in the Fall of 2013 at the age of 61. He graduated with an Honours Paralegal diploma in 2014 and wrote his Law Society exams in February of 2015. Jeff began his field placement with the law firm of Green and Associates in Ottawa where he currently works.
Working at Green and Associates, Jeff has used his years of previous work experience to practice Criminal, Small Claims, OSPCA animal law, multiple Provincial Offences Act (POA) cases, Motions and Charter applications. His area of specialty practice is in Litigation, Property Rights, POA, Criminal and Constitutional issues.
Jeff's Work History
Jeff began his working career in 1973 with the Metropolitan Toronto Police Department as it was known then. Always having an interest in education he took courses in computer systems graduating from CLC Institute in Toronto in Computer Programming and Data Centre Operations. For the next 40 years Jeff worked in the private and government sectors. He attained a Canadian Government security level of Secret allowing him to work on DOD, DND and NATO contracts. During his 40 year IT career he managed and taught a variety of disciplines.
Jeff has always been politically active running in the 2006 Federal election and the 2010 Ontario Municipal election. He has sat as an elected member of political riding associations at both the federal and provincial level.
In 2004 Jeff became an active member of the Ontario Landowners Association to champion the rights of landowners. Jeff worked his way through the organization where today he is President of the local chapter in Lanark County and Vice-president of the Provincial organization.
How did Jeff arrive at Algonquin Career Academy you ask?
Not being satisfied from just supporting landowners Jeff wanted to do more. It was in 2013 that he began to research the legal field. After reviewing law schools, he decided that being a Paralegal was the right decision for him. He researched the schools in Ottawa and found Algonquin Careers Academy to be the best. ACA had day, afternoon and evening class flexibility for studies, school location, course curriculum, school environment, staff and instructors that motivated his decision to join ACA.
While at ACA Jeff had the opportunity to participate in the new TV commercial the school was promoting. This was just another example of the culture at ACA. One of the things that Jeff appreciated about ACA was that he had the opportunity to study with students who came from a variety of continents, Europe, Middle East, Far East and Africa.
Jeff's Commendation of ACA
The time that Jeff spent at ACA was as he stated, "One of the highlights not only in my academic life, but in my personal life as well. The staff at ACA are the dictionary definition of professional, dedicated, knowledgeable, passionate and compassionate for the quality of personal service to their students."
Jeff's Words of Wisdom?
Jeff will continue his studies and goals because for him age is not the limiting factor - it is only your personal beliefs that limit your personal accomplishments. Believe in yourself, do the hard work, learn from your failures, never stop and the world is your prize.
What is next for Jeff?
Jeff is moving forward with his career and will be opening his own paralegal practice. All of us at ACA are pulling for his continued success! If you have seen any of Jeff's Facebook postings you will recognize his signature statement that "ACA Students Rock !!!" We are in complete agreement with this statement and add to it that Jeff Bogaerts Rocks!
For more about our Paralegal diploma program, go to: http://www.algonquinacademy.com/programs/law/paralegal
Mary Soye, the blogger, is a Director at Algonquin Careers Academy with responsibility for Social Media, Human Resources and Employment Counselling.