Wendy O'Neill
PSW Program – Mississauga Campus
Patient Assistant Liaison (Pal), Oakville Trafalgar Hospital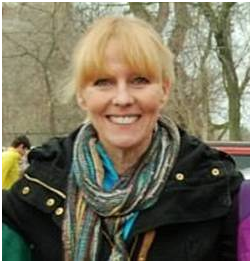 Congratulations to Wendy O'Neill who is our Mississauga Graduate of the Winter 2015 Quarter! Wendy is originally from Britain and came to Canada in 1997. In Britain she was a nurse on a psychiatric ward and then a chiropodist. In Canada, she moved into retail because a friend of hers asked her to help out. She also had two children and took some time off work.  
Wendy wanted more than retail and decided to get back into the health care field. She researched Personal Support Worker and chose Algonquin Careers Academy because of the friendly, non-pressure approach and the concentrated, short duration of the program. During her time at ACA, Wendy's competitive nature and hard work put her at the top of the class.  
Wendy graduated in 2014 and sent out many letters of application. She was hired at Villa Forum, a Chartwell long-term care facility. While there, a job opening came up at Halton Hills Oakville Trafalgar hospital. The hospital is moving into a new facility in December (triple its current size). Oakville Trafalgar is hiring PSWs or, as they call them PALs (Patient Assistant Liaison), as well as MOAs (or Clerks), so look lively graduates! Wendy went through a daunting interview process where there was a panel of four interviewing her, plus one-on-one timed interview questions, plus a dictated, written English test. Wendy obviously aced this interview process as she has been hired on a permanent, part-time basis. This will become full time when the move to the larger facility takes place.  
Wendy loves her work, the environment, and the people she works with. She works on a variety of wards. She is assigned a certain number of patients each day. Among other things, she takes the patients to appointments in other departments, brings their meals, assists in feeding them, responds to call bells, changes their beds, ensures the rooms are clean and sterilizes all hand contact areas in the rooms to prevent the spread of germs.
Wendy is not stopping here in terms of learning. She is currently taking a Medical Office Assistant course. Her plan is to move into a Clerk position at the hospital and take the administrative pathways of progression.  
Wendy's words of wisdom? Keep educating yourself. Learn as much as you can. Love learning. You are never too old to learn something new.
For further information on Algonquin Careers Academy's PSW program, click on the following link:
Personal Support Worker Jobs And Compensation In Ontario*
PSWs cover a wide range of compensation. The hourly rate for a community Personal Support Worker would be around $13 to $15 per hour. The benefit of working in the community is that you can set your own hours. You may take lots of hours if you have the time or fewer if you need to get back home to care of younger children after school. There can be a lot of travel in between patients but you are helping the elderly to stay in their homes longer rather than having to go into a long-term care facility.
PSWs in Long-term Care Facilities and Retirement Homes make from $17 to $22 per hour. To start, Long-term care Facilities often hire PSWs on a casual basis and could call for you to come in at anytime. They may assign to one PSW, 10 patients to get out of bed, cleaned, dressed and down to breakfast in an hour. It is busy but fulfilling work. You would have to be available for various shifts.
PSWs in Hospitals make from $18 to $24 per hour. It is not unusual to have to start as casual, work your way to part time and then move to a full time position after a few years. While on part time, you would have benefits pro-rated to your number of hours. You would have to be available for various shifts.
With the aging population and the greater demand for health care, PSW is a field with good job opportunities.
* This information is based a combination of our graduates feedback and job postings in the field.
For further salary information regarding PSWs in Canada, click on the following link: