Mississauga Graduate of the Quarter – Winter 2016
Stacey-Ann Miller
Accounting and Payroll Program – Mississauga Campus
Sales Support – Robert Half Technology, Mississauga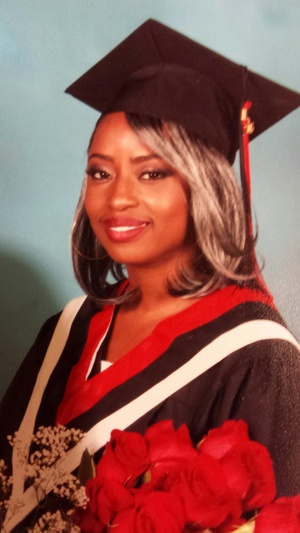 Congratulations to Stacey-Ann Miller who is our Mississauga Graduate of the Quarter - Winter  2016! Stacey-Ann graduated from our Accounting and Payroll program in 2014 and is now Sales Support at Robert Half Technology, Mississauga. As Sales Support, Stacey-Ann does some payroll and a lot of detailed, administrative, sales support work required by a staffing agency. She loves her job.
Stacey-Ann always wanted to go to college to get a diploma. She went to Humber to do their paralegal program but realized it was not for her.  After this she wanted to take a program that was compressed into a shorter time period so she could get her diploma faster. Two of her nieces had gone to ACA in a program where, in 10 months, they had earned their diplomas - they recommended ACA to her. The Accounting and Payroll program fell into her lap and she thought she would give it a try – she loves crunching numbers, had assisted her aunt with her income tax and thought that it might be the right area for her.
Being at ACA was a great experience. The teachers could really relate to the students. They had a small class and the instructors devoted themselves to the students and their learning. She would take more courses at ACA if the timing worked out with her job.
Toward the end of the program, ACA has a weeklong Careers course where the students do resumes, cover letters, job searches, mock applications and interviews for a job that they feel they would like to do. For Stacey's "mock application", she chose a job that she found at Robert Half and was "mock interviewed" for it at the end of that week. She then really did apply to Robert Half and got the job!!
Stacey-Ann was hired on by the Office Team at Robert Half in a contract position as back up reception and data entry. As a management resource, she worked with and assisted every department and had the opportunity to learn the ins and outs of each. She was then hired on permanently and promoted at Robert Half Technology, another division. She still does some of the payroll but a lot of sales support work – contacting candidates, sending out information packages, ensuring the time sheets match the hours, etc. Each candidate is different and the job requires a detail-oriented person. There is a huge amount of paperwork and the littlest mistake might mean a candidate does not get paid.
If she is following up about an important matter and someone tells her that it cannot be done, she will ask them if they have the authority to tell her yes? If not, then she asks to be passed on to the person who does. She does not take no for an answer and she will never take no from someone who does not have the authority to say yes. Stacey-Ann gets things done – she is all about results. She has always seen herself as achieving better and doing more.
Stacey-Ann's words of wisdom? Believe in yourself! Stacey-Ann was told she "couldn't", "can't", "would never be" but saw herself as accomplishing a lot. She has always believed she can achieve more. If you can see yourself in that position, then you can get there. If you can believe it, you can achieve it. She feels that you cannot sit and wait for something to come to you - you need to go out and get it.  And this is just what Stacey-Ann has done with her life!
For further information on Algonquin Careers Academy's Accounting and Payroll/Business Management program, click on the following link:
Accounting and Payroll/Business Management