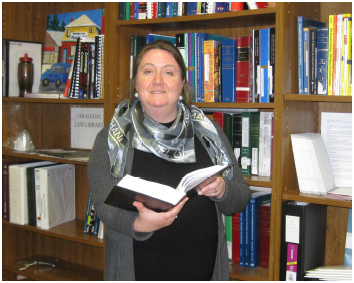 Carrie-Lynne is the Paralegal Coordinator for Ottawa, a Senior Instructor and oversees the placements
 of all Ottawa Paralegal students. Carrie joined Algonquin Careers Academy in June 2008. Carrie is a Lawyer she attended law school at Queens and was called to the Bar in 2002. Carrie has an undergraduate degree in Drama from Queens University. She loves drama and she loves the law. There is a performance element to teaching and Carrie has been known to threaten the students with an interpretive song and dance to get her point across. Carrie has been teaching for over 10 years.
What she loves about Algonquin Careers Academy is that the students are there because they want to be and they are driven to succeed. She likes to see the understanding as it starts to dawn on the students. Every day in the program lives are changed the students are being trained for a profession not just a job this is important to them. Also, because ACA is a small private Canadian institution, decisions are made quickly and there is no bureaucracy to deal with.
Carries Words of Wisdom for her students: There is so much room for growth in the paralegal market. There are over 40,000 lawyers in Ontario and only 4,000 paralegals. Keep looking for those hidden opportunities. Toot your own horn about what your capabilities are as a Paralegal. Make sure the employers know what you have been trained to do the market is just starting to open up.