Debora Lavoie
Medical Office Assistant Program – Ottawa Campus
Office Manager, Health Treasure Medical Centre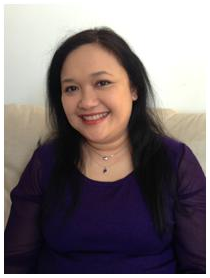 Congratulations to Debora Lavoie who is our Ottawa Graduate of the Winter 2015 Quarter!
Debora immigrated to Canada in 2002. She took a Veterinary Assistant Certificate program and landed a job in the field shortly after this.  She worked for 3 years in this role and then had children and stayed home for a few years to be with them. When Debora decided to return to the workforce, she liked the medical field but lifting animals onto the examination table was too physically demanding. A Medical Office Assistant for people was just the thing. She researched a few colleges and selected Algonquin Careers Academy.
Debora's modus operandi is hard work. She took her program seriously; she paid attention, studied hard and learned a lot.  She found the material in the course to be very good. Her background in Veterinary Assistant contributed to her making the switch to Medical Office Assistant; there were many overlapping but different courses to those she had taken. There is a social side to ACA in which Debora did not participate; she preferred to focus on learning. During her time at ACA, every month at the Student of the Month Awards Ceremony, Debora received the Academic Excellence award for achieving a 90 percent or greater overall average. The main reward she wanted was a job when she graduated.
Debora graduated in 2013 and was hired as a Medical Assistant. After 6 months, another graduate of ACA offered Debora a position as Medical Assistant at Health Treasure Medical Centre and she accepted. Six months after that, her Office Manager moved on and recommended Debora to replace her as Office Manager. Her hard work and serious demeanour paid off! Debora then hired another student of ACA to fill her role. She likes ACA graduates because she knows they have received the same training as she did and can trust the instructor to recommend those that are similar thinking to her. She doesn't want any "lazies"; she wants those that put in a strong effort at school.
She says you can work hard and be motivated but if you land in a bad place of work it can affect your performance. She feels very lucky to be part of Health Treasure – she likes everyone she works with and it has helped her to flourish.
Debora's words of Wisdom? Take your courses seriously and put your best effort into the program. If not, you are wasting your time and your money. People's attitudes in school reflect their attitudes in the workplace. If you are successful in school, you will be successful in your career.
For further information on Algonquin Careers Academy's MOA program, click on the following link:
Medical Office Assistant Jobs and Compensation in Ontario*
MOAs cover a wide range of compensation. The hourly rate for an MOA in a Medical Clinic would range from $10.50 to $16 per hour. In some clinics there can be performance-based bonuses that add substantially to this. These bonuses might be based on you giving injections, or performing certain medical tests. Medical Clinics could be General Practitioners, Specialist Doctors, Chiropractors, Opticians, Chiropodists, Physiotherapists, etc.  
MOAs in Hospitals make from $18 to $23 per hour. It is not unusual to have to start as casual, work your way to part time and then move to a full time position after a few years. While on part time, you would have benefits pro-rated to your number of hours. You would have to be available for various shifts. There is a progressive career path for MOAs in hospitals.
With the aging population and the greater demand for health care, MOA is a field with good job opportunities.
* This information is based a combination of our graduates feedback and job postings in the field.
For further salary information regarding MOAs in Canada, click on the following link: