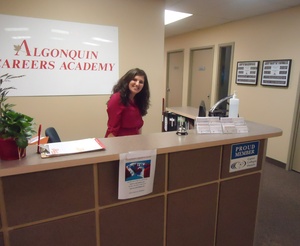 We are open for business! With the current strike situation at the Public Colleges, we thought potential students might want to know what alternatives are out there for them so we have put together this list of top 10 reasons to consider a Private Career College.  What do Private Career Colleges have to offer?
More focus on the students and student outcomes with smaller class sizes
Less bureaucracy so we can work around your challenges and resolve any issues quickly
A modular course format where you will focus on one course at a time and then move on to the next one
Staff and instructors who are devoted to your success and go above and beyond to ensure your understanding of the material
Intense programs that allow you to complete your program more quickly and start your career and collect your pay check sooner
Smaller campus size so that you get a friendly, warm feeling when you come to school
Career services dedicated to helping you find a job when you graduate
Only 2% of students who attend PCCs expressed dissatisfaction with the program they enrolled in (based on a survey by Career Colleges Ontario, http://www.careercollegesontario.ca/news_view?id=2257​)
Private Career Colleges have a higher graduation rate than the Public Colleges (based on the Key Performance Indicators measured by the Ontario Ministry of Training, Colleges and Universities)
Public college teachers are currently on strike whereas the private sector is open and ready to help their students
All of this adds up to success for our students!
To find out more about what Algonquin Careers Academy has to offer you: Call the Mississauga campus 905-361-2380 or Ottawa campus 613-722-7811 or go to our website at: https://algonquinacademy.com/programs​
"The career college sector in Ontario, represented by Career Colleges Ontario, consists of approximately 43,000 students and 600 colleges. Annually, it produces more than 30,000 graduates..." Career Colleges Ontario http://www.careercollegesontario.ca/news_view?id=2257