FIVE REASONS TO BECOME A PERSONAL SUPPORT WORKER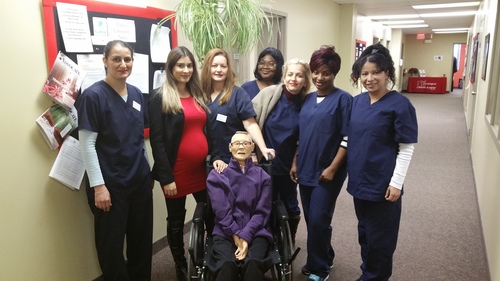 Trying to find a career that will both make you happy and cover your costs of living can seem like a difficult task. Wouldn't it be great if the job of your dreams would make itself known – and if there were easy instructions to follow to achieve your dreams?

Algonquin Careers Academy PSW diploma program can lead you to just that!

Becoming a Personal Support Worker is the dream job of many who are career-minded, compassionate, and want to "make a difference in people's lives" and ACA has been helping students train to excel in this growing field since 1981. Here are 5 reasons why becoming a PSW might be right for you:

1) You can make a difference in helping your community!
People often wish they could make a difference. As a PSW, you really can. From assisting clients with personal care, activities of daily living, preparing meals, assisting with vital signs and medications and being an advocate will play a major role in optimizing your client's well-being and dignity.

2) It is rewarding and makes you feel good!
What goes around, comes around. Ever notice how great it feels to help someone? You will be able to walk away knowing you made a positive difference in your clients' lives on a daily basis. Making our clients feel their best and providing compassionate, client-centered care to enhance quality of everyday life is an important part of our role.

3) There is a growing demand in this field!
There could not be a better time to step into this field as Ontario's baby boomers are aging. Our long term care homes and hospitals are full of 'ready to retire' PSW's and are currently looking for fresh new faces!

4) You won't waste your time!
Algonquin Careers Academy's Personal Support Worker diploma program has its graduates fully prepared to enter the PSW field in just 27 weeks, total time in class and on clinical placement. Our PSW program is offered mornings, afternoons and evenings, Monday to Friday, 5 hours per day. You have your choice of what timing works best for you.

5) You can be proud of your career!
Algonquin Careers Academy PSWs enter a profession they can be proud of from the time of walking across the stage at graduation to starting your career as a respectable and respected health care worker. PSWs work alongside health care professionals in a variety of settings, including hospitals, clients' homes, long term care homes, retirement homes, all the while restoring well-being and dignity to those in need. The Personal Support Worker is the front-line care provider who plays a significant role on the health care team.
ACA has your back! Call 905-361-2380 (Mississauga) or 613-722-7811 (Ottawa) now to speak with an admissions advisor to enroll in classes that are starting soon! Find out more about the PSW diploma program at https://www.algonquinacademy.com/programs/healthcare/personalsupportworker