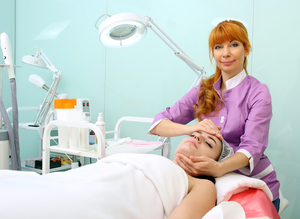 Be ready to start your own salon or spa business after completing the Medical Esthetician diploma program at Algonquin Careers Academy (ACA)! Receive in-depth training from industry expert instructors, state of the art equipment and on-the-job experience to maximize your success in this life-changing career path.
Algonquin Careers Academy's Medical Esthetician diploma program also covers business management, customer service strategies, and the computer skills you will need to operate your own salon or spa. Medical Estheticians book appointments, perform skin analysis, and promote their salon's available services. They are their clients' first source of education and information in Esthetics.
The potential services provided by Medical Estheticians include:
make-up application
cosmetic massage
nail care
medical facial treatments
laser and radio frequency treatments, and
microdermabrasion.
Satisfy your entrepreneurial spirit by connecting with ACA's Admissions Advisors! Learn what the next steps are on the path to running your own business as a Medical Esthetician. Call the Mississauga Campus now to find out more: 905-361-2380.
This program is offered only at the Mississauga campus.
More about the program at:  http://algonquinacademy.com/programs/healthcare/medicalesthetician