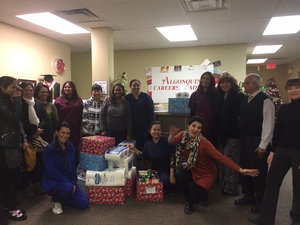 Each year on the Mississauga campus, the Algonquin team comes together to help those in need our community. This year we sponsored a food drive for Peel Youth Village. Peel Youth Village (PYV) is a residence for youth who do not have permanent housing.
PYV provides safe, stable, transitional housing and support services for youth, 16 to 30 years of age. As many as 48 youth occupy PYV with support from staff who are onsite 24-7, 365 days a year.
This year the staff and students of the Mississauga campus collected 886 items to donate to the Peel Youth Village! Congratulations to the morning Paralegal class which collected 376 items and won a pizza lunch in the New Year.
However, this is a Win Win situation for all - from the givers to the receivers. Well done Mississauga team!
Dalia Putros is the Office Coordinator for our Mississauga, Campus.