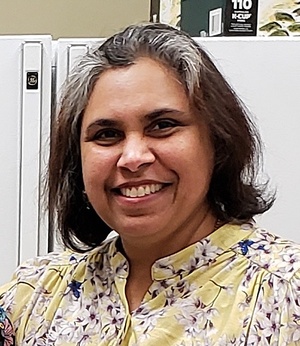 Asfiya Rahman is one of six ACA Instructors who were nominated for the Career Colleges Ontario Excellence in Teaching award. Asfiya is an Instructor of Pharmacy Technician and Pharmacy Assistant at the Ottawa campus. Asfiya has been a passionate and dedicated teacher for more than 25 years starting as a middle school teacher at the International Indian School in Riyadh KSA in 1994.  Supporting her students in learning and developing further ignited her passion for teaching.  Upon moving to Canada in 2006, Asfiya quickly found employment. However, she had determined that her life's goal was to teach in the healthcare field and she registered at Algonquin Careers Academy (ACA) in the Pharmacy Technician program.  While completing her program, she received awards recognizing her academic excellence and leadership skills.  Due to her dedication, intelligence and enthusiasm, Asfiya was hired as an Instructor of the Pharmacy Technician program at ACA in 2008 and quickly promoted to the role of Program Coordinator / Lead Instructor.
Since 2008, Asfiya has been a dedicated teacher in the Pharmacy Technician program, and also in the Pharmacy Assistant program.  She has played a lead role in developing curriculum for Algonquin Careers Academy's CCAPP accredited pharmacy program. Asfiya also coordinates all of the pharmacy instructors who come in to teach specific sections for 3 cohorts of pharmacy technicians and assistants.
While teaching, she demonstrates a creative and instinctive approach based on her extensive teaching experience and her own educational background which also includes a B.Sc. in Biology and Chemistry.  In order to remain current in her field, Asfiya has worked as a Registered Pharmacy Technician at a local pharmacy since 2007.  Her work experience enables her to enrich the students' learning experience by directly relating her lectures to "the real world".
In order to provide prospective students with a clear understanding of the path to becoming a Registered Pharmacy Technician and their role in healthcare, Asfiya is in the process of developing a comprehensive orientation process.
Asfiya is well regarded and respected by her students who understand that both her work and educational experience make her an excellent teacher as she is able to help them understand the relevance of the theory and how to put it into practice.
Asfiya's passion and commitment to teaching has inspired her students to achieve their best and she has provided one-on-one counselling and support to students who are struggling at school and require extra training.  Asfiya is generous with her time and will always do whatever it takes to help her students.  She continues to support students after graduation to mentor, provide advice and promote her students for various job opportunities.
Asfiya contributes to her community both on a personal and professional level.  She is the Treasurer of Girl Guides Canada Unit 1st SNMC where she helps support this valuable service for girls in her community.  At Algonquin Careers Academy, she coordinates the faculty, liaises with potential employers and training sites.  She coordinates the Professional Advisory Committee meetings which meet semi-annually to exchange insight and experiences ensuring that student training meets employer expectations and enables the college to implement continuous improvement processes.
Professional collaboration is at the core of Asfiya's teaching.  She actively involves community members as guest lecturers such as members of the Ontario College of Pharmacists (OCP) and The Pharmacy Examining Board of Canada (PEBC).  Over the years Asfiya has ensured that her program reflects current health care issues such as the opioid crisis.
With her experience Asfiya has developed relationships with pharmacies throughout Ottawa and the region.  Many of them have stated that if a graduate has been trained by Asfiya, then they will hire them as they can be assured that the graduates are very well trained and can jump right into their role. In the past year, she connected with a pharmacist at one of the major pharmacy chains who owns several pharmacies and is a member of a pharmacist/owner organization. Through this relationship she not only receives information as to employers' requirements, but also has opened up a number of new sites for co-op placements and employment. As a result of this expanding relationship, many of the members of this organization have also trained and/or hired her students/graduates. 
Congratulations to Asfiya for being nominated for the CCO Excellence in Teaching Award!
To find out more about our Pharmacy Technician or Pharmacy Assistant program: http://algonquinacademy.com/programs/healthcare