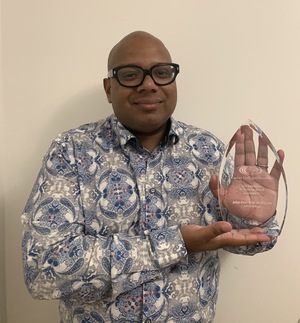 Congratulations to J-P Rodriques, an ACA Mississauga paralegal instructor, for winning the Career College Ontario Excellence in Teaching Award for 2020! J-P, a lawyer, is a regular, part time paralegal instructor with Algonquin Careers Academy and is also the paralegal program coordinator at another private career college. This other college nominated J-P for the CCO 2020 Excellence in Teaching award and he won! The award recognizes exceptional instruction, leadership and engagement. The nomination for J-P included 50 letters of recommendation from current students, graduates and colleagues.
One of J-P's students had this to say in her letter of recommendation:
"I am thankful to him for always going the extra mile to reach out with us. Until now, I am still in touch with him. He is still there to support us in our chosen career. I think that the best example of how this is clear is by looking at how nearly 50 former students took the time to write letters of support for Jean-Paul to win this award. This truly speaks to the positive relationships he has built with his students."
His nomination stated that "Contained within these letters were stories revealing a glimpse of how J-P's uniquely creative and considerate teaching style molded students' educational experiences and placed students on a track to success."
J-P in accepting the award recognized those who had written letters on his behalf and said that "reading those wonderful words means as much as winning this award itself". His words of wisdom for past, current and future students are: "don't let anyone or anything discourage you or stand in the way of your dreams even if that means you must work that much harder, the success will taste that much sweeter and I will certainly be there to support you every step of the way."
Congratulations J-P and we consider ourselves very lucky to have you as a paralegal instructor at our college!