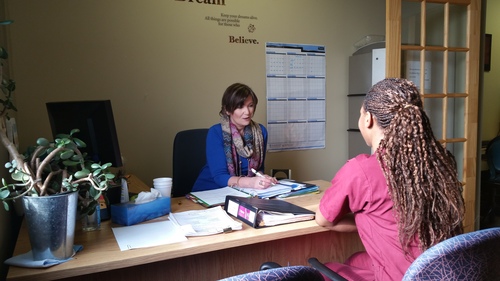 At Algonquin Careers Academy (ACA) we provide a more personalized approach to supporting and guiding our students in their new career path. We have a Career Service Office on each campus where we offer industry tailored workshops providing students an opportunity to learn and review strategies that will help our students excel academically and in today's competitive job market.  
In Student Success Strategies students are introduced to proven methods on how to successfully adjust to their new lifestyle and maintain a positive balance, while often juggling multiple responsibilities. We encourage our students to concentrate on positive motivators including minimizing negative self-talk and keeping in close contact with supportive friends and relatives. We strive to help students increase their motivation and develop their confidence by developing a 'Me' profile and 'Career Success' attitude needed to be successful while at school and upon graduation.
We discuss how students can put themselves at an advantage when marketing themselves by building a strong network.  We encourage them to do industry specific research, join community groups and professional associations to put themselves in contact with people they wouldn't normally meet.
Students get tips on putting together a professional portfolio to keep track of all their courses and achievements, as well as their network of contacts. We provide tips on how to conduct an information interview as a way of seeking hands-on advice and information from people working in their field. They may learn about ways they might get started, specific company trends and job types, tips on what employers are looking for and possibly even a job lead.
We also discuss the merit of volunteering, gaining an opportunity to learn more about their industry, workplace culture and gain new contacts.
Our Career and Employment Strategies (CES) workshop guides students in further developing their professional 'Me' profile by helping them put together an eye-catching Resume and Cover Letter tailored to each job application that visually tells potential employers what they want to hear and convinces them; this candidate is 'worth meeting'.
We discuss the interview process and provide students with the necessary tools to convince potential employers that they are a competent person who knows how to manage themselves, learn quickly and are easy to get along with. Students research common interview questions and learn why an interviewer is asking a certain question, what they are looking to hear from the successful candidate and how to tailor and practice answers that reflect their best accomplishments and qualifications, while sharing memorable short stories ensuring that not only will the interviewer not forget them but will also convince them that our students have the aptitude, skills and attitude for success.
Cooperative work placements are another way to network and gain valuable work experience. The CES Office provides each student an opportunity to put their best foot forward once a co-op work is secured for them.  Students put into practice what they have learned and have a chance to develop their skills. Placements are also a chance to get professional references and possibly a job lead.
Our Career Service Offices are here to support our students and alumni in their quest for a new career whether it be through one on one counselling or group workshops. Students and graduates - book time with your Counsellor today!