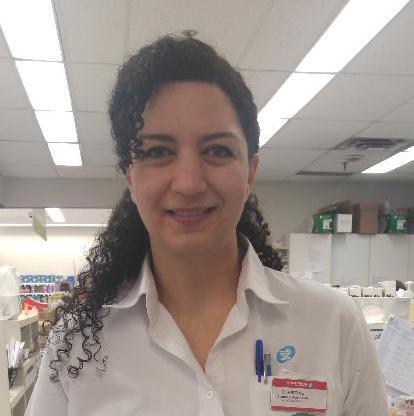 Christine Fanous is one of the six ACA graduates nominated for a CCO Outstanding Graduate Award. She is an Ottawa graduate of the Pharmacy Technician program. Christine began her career in pharmacy more than 20 years ago in Jordan as a licensed pharmacist prior to moving to Canada. She remains a registered pharmacist in Jordan. Upon moving to Canada, friends and family recommended that she stay in pharmacy and after researching her options, found that the best choice was the Pharmacy Technician program at Algonquin Careers Academy (ACA). She studied hard and graduated with a near perfect GPA.
She found there was a significant difference from what she learned in the Middle East and had to learn the laws and regulations of Canada as well as the medications available here. She loved her courses and worked hard. When she entered her placement it was like being home – there was no steep learning curve because the courses she took were all relevant. Her hard work throughout the program and her excellent grades paid off in the workplace.
During her Pharmacy Technician program she excelled as she understood what competencies were needed. She was a strong team player and never projected the air of "I'm a pharmacist back home". She was always ready to help other students by tutoring them and helping them understand the importance of accuracy, empathy and attention to detail.
Upon graduation, her teacher recommended her for a job at Loblaw's pharmacy where she stayed for over 2 years while studying for her RPhT license. The recommendation was made not only on the basis of her grades, but also on the positive attitude she projected in all aspects of her training and her ability to accept constructive criticism.
Once she received her RPhT, Christine went to work for Shoppers Drug Mart as a Pharmacy Technician. Her work includes taking verbal prescriptions, taking and providing prescription transfers, doing a technical check of filled prescriptions and checking blister packs. This might require faxing prescribers for refills or clarification, communicating with patients and helping them with different issues such as billing problems.
In her job as a Pharmacy Technician, Christine has earned the respect of her manager, pharmacists and coworkers. Her work is impeccable and she is able to work effectively and efficiently. Her patients trust her for their prescriptions - they know she is always approachable, friendly and knowledgeable. Customer service is a driving force behind the service that she provides.
Her efficiency and skills are reflected in how she manages her workload. When she started, she was responsible for 17 blister pack patients and is now responsible for 160. She is continuously increasing her skills base and knowledge through continuing education and participating in various pharmacy courses and training.
As a result of her exceptional academic performance while at ACA, in conjunction with the experience gained at her job as a RPhT, Christine was hired in 2017 as a part-time Instructor in the Pharmacy faculty at ACA. Christine quickly proved herself to be an exceptional teacher who is able to engage students by relating their theoretical teaching to the real world as a RPhT. She gives astute advice to students on how to complete tasks and handle various issues that arise in a pharmacy. She is an exceptional, creative teacher who is able to break down technical details into simple day-to-day language that the students can understand.
Christine is the consummate professional and at the same time is very social and actively involved in supporting her students. Through her example, she encourages and supports students in completing their exams and becoming registered pharmacy technicians.
After graduation, Christine was offered a role on the ACA's Pharmacy Technician Professional Advisory Committee (PT PAC) In her role on the PT PAC she has made a significant contribution to the community at large by advancing ACA's admission process in terms of enhancing the evaluation process for student admission and providing the necessary information that students require to prepare them for a career in pharmacy. In her role on the PT PAC, she was able to provide valuable input to the Pharmacy curriculum. It was Christine's role as an active and involved member of the PT PAC that eventually led to her being offered the Instructor's position.
One of the key contributions Christine makes to her community is to ensure that patients, even those who cannot physically make it into the pharmacy, are well cared for. She visits patients in their retirement homes to deliver their blister packs and explain changes to their medication.
Wishing Christine good luck in being chosen for a CCO Outstanding Graduate Award!