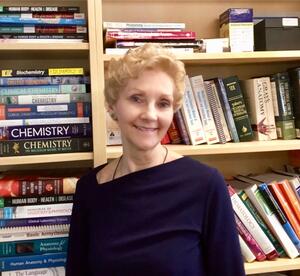 Christine Gregory is one of the six ACA instructors nominated for a CCO Excellence in Teaching Award. Christine, a Medical Laboratory Technologist, is an Instructor and Program Coordinator of the Medical Laboratory Assistant/Technician Program in Mississauga. As the only daughter of a military father, Christine had discipline and structure instilled at an early age. This discipline was at the crux of how she became an exemplary mother, community member and teacher.  At one point, Christine decided to go back to school and travelled two hours every day from the Trenton Military base to Kingston, Ontario to attend St. Lawrence College and pursue her Medical Laboratory Technologist (MLT) designation.
Christine began her career working at Trenton Memorial Hospital and it was there that her supervisor "voluntold" her to help the nurses understand the phlebotomy tubes and additives.  This was her first real "aha moment"- that feeling that tickles something inside natural teachers, something that drives them to share knowledge and extend a hand to the next in line.  After seven years of practicing as an MLT, Christine began teaching the MLA program while working part time as a MLT.  Now, twenty-five years later, Christine has built a solid reputation among students and employers as being brilliant teacher! 
Christine always makes herself available to students; she ensures that students know that she is accessible to them outside of the class and even after they have graduated. One of the most memorable moments for Christine was when she went for blood tests at her local laboratory and it was one of her students running the lab!  It was a full circle moment of pride.  Christine is a "get things done" instructor and has on many occasions volunteered herself for: phlebotomy practice, ECG and capillary puncture.
Many of Christine's students have gone on to pursue careers in different areas including Research with The Hospital for Sick Children, Brampton Civic Hospital, Life Labs, Dyna Care, Ontario Agency for Health Protection and Promotion, and Sunny Brook Hospital.  You can guarantee that if you have had blood work done at the Lab, at some point it has been one of Christine's students!
Christine's connection to the profession extends well beyond the classroom.  As an active member of the OSMT, CSMLS, CMLTO for more than twenty years, Christine has helped audit and amend exams, proctor examinations, deliver continuing education materials and has written a program for Loyalist University on Interpretation of Laboratory Results.
When Christine's students were asked about how they felt about her, what did they have to say?
"Christine makes you feel like she is talking to you like a family member, you can feel she truly cares about my success"
"She is the most patient and approachable teacher I have ever met. She teaches from a practical perspective, makes topics relatable and breaks down concepts until we "get it", I will forever be grateful"
What does Christine think about her own teaching style?
"I use my own life examples and explain my mistakes. I have had my own academic struggles and I believe that sharing those help my students relate to me.  I believe my openness and ability to share allows my students the platform to feel safe in the environment and to share their own struggles"
If you visit the campus after Christine's class has ended, you will find Christine in her classroom, preparing for the following days lessons. How will you find her classroom?  Follow the sounds of Justin Timberlake and you will find Christine happily bouncing and working!
To find out more about the Med Lab program at ACA: http://algonquinacademy.com/programs/healthcare/medicallabassistant​