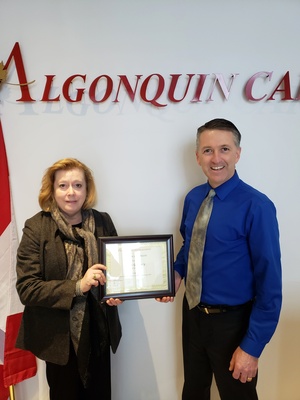 Sean was nominated for employee of the month because of his willingness to always assist those requiring support. He is reliable, dependable and always pitches in to support his campus in whatever capacity is required.
Sean is a key player on our Admissions team at the ACA Ottawa campus. In his role as an Admissions Advisor Sean is responsible for meeting with potential students to advise them on their career paths, ensuring students get properly enrolled and scheduled into their programs of choice, and following up with students on their overall success and satisfaction.
Sean has helped to coordinate extra-curricular events to raise the profile of his campus, and is always ready to lend a hand. Whether it is cooking a turkey for our Potluck, or serving food, or helping with the clean-up Sean is always ready to volunteer.
In addition to his day to day responsibilities at the campus, it is not unusual to see Sean delivering the collected hats, mittens, and snowsuits to the Snowsuit Fund or helping move cabinets in a classroom changeover, or helping to move a large order of textbooks to the book room; Sean rolls up his sleeves to do whatever is required to assist the campus.
Sean demonstrates professionalism, customer service, leadership, and commitment and we are very fortunate to have him as a member of our ACA team!
Thank you Sean for everything that you do as it is truly appreciated! Congratulations on being awarded our Employee of the Month for December!