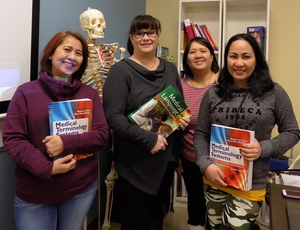 1. Medical Field is Going to Explode!
Medicine is an exploding field in need of Medical Office Assistants (MOA) to be the liaison between the patients and the medical staff. With the baby boomers aging, the number of people needing health care will continue to grow rapidly for the next many years. There will be more delegation to MOAs to do injections, ECGs, and other things because it is more costly to hire a nurse. There will continue to be a greater call for MOAs over the coming years.
2. Our MOA Graduates are getting Jobs!
Our Medical Office Assistant graduates are getting hired in the medical field as medical secretaries, dental receptionist, hospital ward clerks, medical specialist assistants, and administrators in physiotherapist and chiropractor offices.  After working in their area, our MOAs are being promoted to Office Managers and other senior positions. The program is set up in such a way as to ensure that our graduates are ready to hit the ground running once they get a job in the field and that is just what they are doing!
3. You will Graduate and be Ready to Work in 33 Weeks!
Within 33 weeks you will graduate with your Medical Office Assistant college diploma. This 33 weeks includes a 4 week placement in your field giving you practical experience to supplement your hands-on and theoretical learning. 33 weeks is not a long time to change your life! 
4. Our MOA Instructors are OUTSTANDING!
Darlene Vale, our MOA instructor for Ottawa, and Cindy Ramnathsingh, our MOA instructor for Mississauga, are both amazing instructors. Not only do they have excellent experience in the teaching field, but also both have worked directly in the Medical Office Assistant field and have the practical knowledge and experience to bring the theory to life. Both are understanding, fun and interesting – all of which will help you through the MOA program. We will be following up with articles about each of the MOA instructors over the next few weeks so stay tuned.
5. Next start is soon so you can get started quickly by ENROLLING TODAY!
The next Medical Office Assistant class start is:
Ottawa             - April 3, 2017 (mornings)
Mississauga    - March 20, 2017 (mornings)              
                - June 20, 2017 (evenings)
Action: CALL the campus near you to find out more about the program. Ottawa 613-722-7811 or Mississauga 905-361-2380. Or check us out at: http://www.algonquinacademy.com/programs/healthcare/medicalofficeassistant