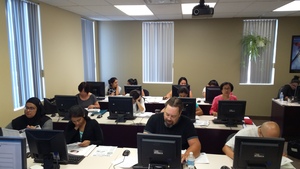 Our Mississauga Pharmacy Technician diploma students are shown here working on their class assignment "Smoking cessation  and the role of a Pharmacy Technician". For smoking cessation, better known as "Kick the Habit", the students were asked to research:
The impact of smoking on various population groups
Pharmacologic interventions proven helpful in cessation programs
Non-pharmacologic interventions available
The role of the technician to support patients who are contemplating quitting or attempting to quit smoking
Our Pharmacy Technician students won't quit but they will help their customers to quit smoking!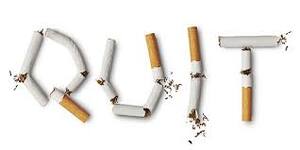 Smoking cessation is part of the Pharmacology course, one of the courses in the Pharmacy Technician program. In Pharmacology, students learn the general concepts of pharmacology, major therapeutic drug classifications and the use of prescription and non-prescription drugs in the treatment of various diseases.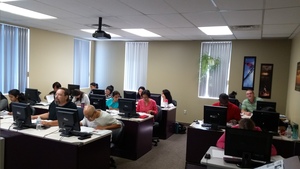 Find out more about our Pharmacy Technician program which is accredited by the Canadian Council for Accreditation of Pharmacy Programs at:  http://www.algonquinacademy.com/programs/healthcare/pharmtech
Irina Parsova, a Registered Pharmacy Technician, is the program coordinator and lead instructor for the Mississauga Pharmacy Technician program.