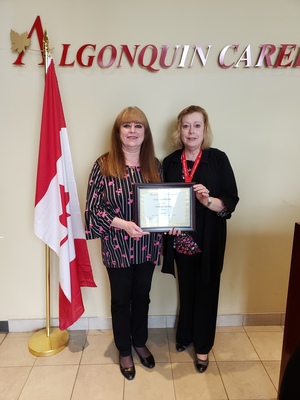 Deborah Stewart is our Registrar at the Ottawa campus and is often described as an "unsung hero".  Deborah is professional and well respected by both her colleagues and her students - she is always pleasant, professional and helpful.  Certainly, our admissions representatives (Rima and Sean)  count on Deborah to assist them with the enrolment of our students by providing financial experience and advice.  Deborah brings over 10 years of experience to her role and keeps up to date on all the new financial assistance guidelines in order to keep our campus in compliance with the ministry guidelines and to provide students with the best support.
It is not unusual to see Deborah come in early or stay late in order to accommodate students to successfully receive their funding.
Deborah is also responsible for the payment of many of the campus invoices and bills and ensures that everything is processed properly so that the rest of the campus can function effectively and attend to the needs of our students.
Deborah is a team player and always provides positive leadership. She is committed to her campus, her colleagues, and her students and provides excellent customer service to each.