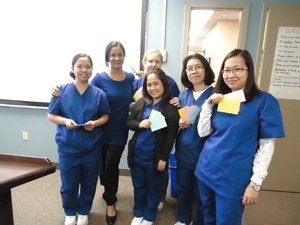 What is one of the toughest and most boring subjects of Medical Office Assistant? Medical Terminology! However, not at ACA. Cindy Ramnathsingh teaches Medical Terminology through a series of games and flash cards. She works with a Jeopardy type of game revolving around medical terminology and pits two teams against each other to help them learn this difficult but necessary subject. Before billing and transcription, the students need to know the language so she makes Terminology fun – "megali" means large, "oh good, will you megali my marks"!
Cindy's Route to Instructing MOA
Cindy joined ACA in 2016 as our instructor of Medical Office Assistant diploma program at the Mississauga campus. She teaches our morning class of MOA and also works as a Medical Assistant part time in the evenings. She is very current on what is happening in the world of Medical Offices.
After graduating from college as a Medical Laboratory Assistant, Cindy volunteered at the Wexford Medical Clinic.  While at the clinic she saw an opportunity to help organize a new phlebotomy process.  This process eventually saved the clinic thousands of dollars and allowed her to become a phlebotomy expert.  She went on to introduce and implement this process at two other clinics.  
As the Medical Laboratory Assistant at the clinic, she took on the duties of a preceptor for the MLA students and this sparked her desire to explore teaching!  In 2013, Cindy went on a health care mission to Hyderabad India, serving as a medical assistant in an impoverished community.  After completing the mission, she came back recharged and began teaching at a private career college.  As well as teaching, Cindy throws herself into the college community by participating in and organizing fundraisers and students events. 
Work Placement for Our MOA Students
Cindy works with our Employment Counsellor, Roxanne Armstrong, to find suitable placements for our MOA students. All of our students get an internship and sometimes they get hired on by the place where they are working.
She also encourages her students to volunteer throughout their college program, even if once per week, to get a better understanding of the Medical Office environment and the work. Why not volunteer and get a head start on your chosen career?
Why MOA at ACA Mississauga?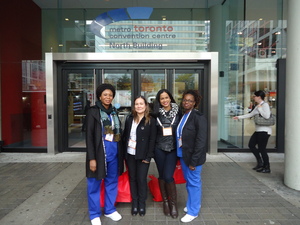 Cindy tries to make it interesting and exciting for her students to learn. She takes pride in helping her students to succeed. Her students come from a variety of backgrounds and not all of these backgrounds encourage learning for women. Cindy builds the confidence of the students throughout the course so that by the time they go to their placement, these people are ready to take it on and feel that they can.
Another plus of our MOA program is the Dental segment. This is a huge benefit as it opens up more avenues for the MOA graduates.
The small classes, allow her to provide personal attention to each and every student. She will help people during and after class to grasp the concept.
Cindy sees first hand at ACA, that students are the first and main priority of the school. Cindy knows that the Mississauga Director and the administration are truly concerned for the students and want them to do well. They are very supportive and will give the MOA students an opportunity to practice their skills at our front desk.
All of the ACA instructors give 110% when trying to find a solution for the students. The level of support is higher than she has ever seen at any other school. People are caring, and considerate.
Roxanne, our Employment Counsellor, is there for the students for as long as they want. Graduates can come back a year or more later for help with a job change or promotion.
As an indication of our faith in our programs and our students, we have hired several of them. Our receptionist is an MOA grad. Our Registrar is an MOA grad. Our Education Manager is a Paralegal grad. And that is just in Mississauga. In Ottawa there are others!
What is Cindy's favourite part of being a college instructor?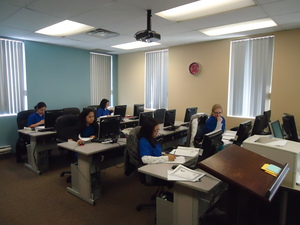 The success of Cindy's students makes her happy in her work. One student asked her for a reference letter for a job as a coordinator of an entire downtown clinic. As she typed out a reference letter, she was remembering all of the achievements of this student. Not only did she attend school and excel at it while taking care of her kids, she also had taken part in various fundraising ventures such as a BBQ and a carwash for good causes. She was a role model for the rest of the school and she was Cindy's right hand person. Cindy loves boosting the confidence of the students and cheering them on. It was a great feeling knowing that her student got the job and that all of the student's hard work had paid off. She is happy to be there for her students during their struggles to do what she can to make it easier for them. It makes her feel good when they come back to the school to let her know that they are using the material they learned and happy they chose that course.
Cindy wants to continue to grow and share her passion for teaching with her students!  When Cindy is passionate about something she gets very excited. She is so happy to work at this school that looks out for the well being of the students and employees.
To find out more about our 33 week Medical Office Assistant diploma program,  http://www.algonquinacademy.com/programs/healthcare/medicalofficeassistant