Mississauga Graduate of the Quarter – Spring 2016
CHRISTINE BISHOP
Pharmacy Technician Diploma – Mississauga Campus
Pharmacy Technician – North York General Hospital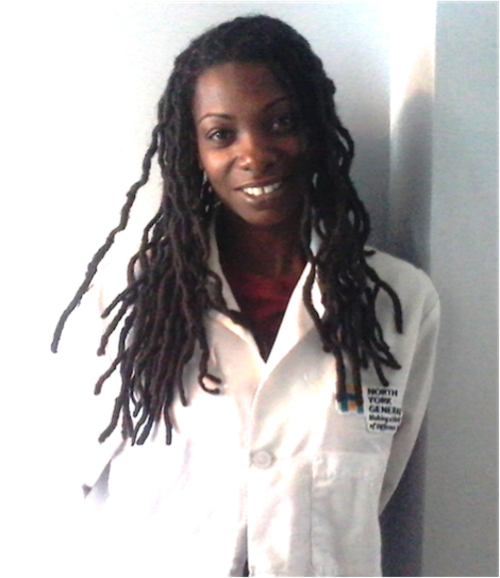 Congratulations to Christine Bishop who is our Mississauga Graduate of the Quarter – Spring 2016!
Going back to school at Algonquin Careers Academy for the Pharmacy Technician diploma changed Christine's life and she is ever thankful for this. She started her Pharmacy Technician program at another college that was on probation for, and then lost, its accreditation to teach the Pharmacy Technician diploma program. She was very upset about this and at the start of 2014 was not sure what was going to happen. She ended up calling ACA and talking with Ken who was very kind and welcoming. Rebecca and Ken arranged so that Christine did not have to start over from square one in the program. Christine lives in Scarborough and made the trek to Mississauga every day leaving early in the morning to beat the traffic. She received the monthly perfect attendance award a few times meaning she was never late or absent (very impressive with that commute!).
Christine had her community placement at Rexall in her neighbourhood and her hospital placement at North York General. She finished her placement in August 2014 and in September wrote her PEBC (Pharmacy Education Board of Canada) exam part 1 (the six week wait for her results was grueling!). She wrote and passed the Jurisprudence exam in November 2014. Ahead were the next two steps on the way to becoming a Registered Pharmacy Technician (RPT).
While she was at North York General on placement she gave her resume in application for a Pharmacy Technician position. This was close to the end of the period where hospitals had to have only registered Pharmacy Technicians on staff. Christine had her first interview in September and did not get hired until December – this was a long, drawn out process but she was hired on a six month, full time contract as a Pharmacy Trainee (so have hope if you are waiting and wondering after an interview!).
Christine did her Structured Practical Placement at the hospital with a preceptor there. She completed this and the final step in the process, the PEBC Exam part 2, by April and was a fully registered Pharmacy Technician by June 2015 when she was hired on full time, permanent at North York General as a Pharmacy Technician in the In-patient Pharmacy.
As a Pharmacy Technician, Christine does every role. In the hospital the jobs are divided into portfolios in a structured way so that with good time management of the many tasks, the work can be done. She prefers to be busy and moving. There are a number of portfolios she works with and some that she still has to be trained on. She loves the continuous learning process and learns a lot every day. Christine really likes the Sterile Compounding although it is cold in there!
Christine chose to go into the health care field and Pharmacy Technician area in particular, because someone close to her had cancer. Working with Sterile Compounding and chemotherapy products is a way to "satisfy her soul" and pay it forward. Prior to this Christine had taken an Accounting diploma at Seneca and worked in that field for a while. She was also a hip-hop dancer with a studio for music and dancing that she and her husband personally built. Although she has had interesting and successful past lives, Pharmacy Tech is her soul food.
While she was at school Christine was the Student of the Month, had some perfect attendance awards, was awarded for Academic Achievement (over 90) and received the highest honour in the Pharmacy Technician diploma program at graduation. All of her instructors were references for her - they reassured her and had confidence in her ability to get the role at North York.
The hospital has a Senior Pharmacy Technician position to which Christine is aspiring but that is a long-term goal and for now she has so much to learn.    
Christine's words of wisdom? Take the bull by the horns and do what you want to do. Be passionate about it and follow through. Put your all into it and you will reap the rewards.  
To find out more about the Pharmacy Technician diploma program at Algonquin Careers Academy in Ottawa and/or Mississauga:  http://www.algonquinacademy.com/programs/healthcare/pharmtech
The interviewer and writer, Mary Soye, is a Career and Employment Specialist. She has worked with Algonquin Careers Academy since 2007 teaching the college students and graduates how to find employment.