Ottawa Graduate of the Quarter – Spring 2016
Nikoleina Coronel
Medical Office Assistant Diploma – Ottawa Campus
Medical Secretary/Receptionist – Findlay Creek Medical Centre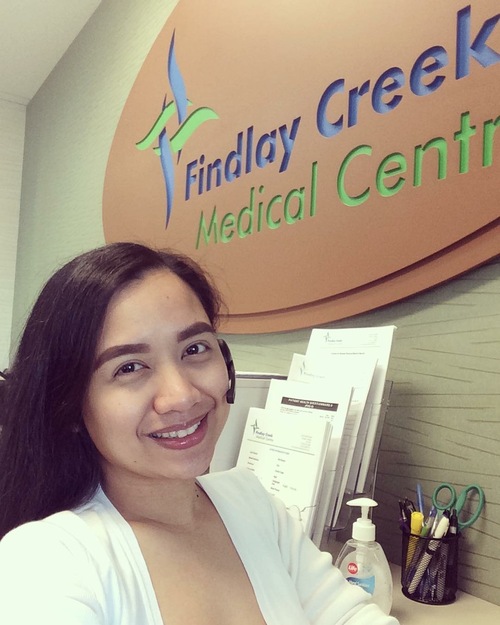 Congratulations to Nikoleina Coronel who is our Ottawa Graduate of the Quarter – Spring 2016!
Nikoleina graduated with a Medical Office Assistant diploma December 2015 and in late January was hired as a Medical Secretary/Receptionist at Findlay Creek Medical Centre, a clinic with 10 doctors. She is responsible for many things at the clinic. Nikoleina is one of three Medical Secretaries at the front desk and has been assigned two doctors - she calls their patients, schedules appointments, provides the patients with their results, handles the documentation and any paperwork that needs to be sent off, deals with the billing of patients and educates patients regarding their policies. She is learning a lot of new things. The patients love her lively nature – she is polite and respectful of their time. Nikoleina is a perfectionist and makes very few booking errors – she likes things done properly. She loves working at this clinic and is excited to go to work even if she has not had enough sleep (she has a young daughter!).
Nikoleina describes her route to becoming a Medical Office Assistant.
"I came to Canada the summer of 2013 and was lucky to land a job with a small IT firm, 2 weeks after my arrival. Surprisingly, I got pregnant with my first child 3 months after and was already thinking of what I will do after I have the baby. I have always wanted to work in the healthcare industry and when my maternity leave was almost over, I knew I had to do something to fulfill this dream of mine. I looked at different schools and called a few ones to ask about the Medical Office Assistant program, and luckily found Algonquin Careers Academy. I immediately scheduled an appointment with one of the admissions representative so I can start the process of being a student there. I was so nervous when I arrived to my appointment and was even more scared when I found out I had to complete an assessment evaluation as I knew I was a tad bit rusty. Luckily, I passed the exam and I was so excited to begin. 
My first day of class was interesting. It was like being back in college all over again but this time, I'm in Canada, a totally different atmosphere. I was a little intimidated and shy but I kept it to myself and I made a mental note to just do the best that I can and listen closely to my professor and learn as much as I can. I actually had fun on my first week and I knew right then that I made the best choice. I easily made friends and was also getting a lot of very good marks so I was surprised with that as well. I have never been an outstanding student back in the Philippines and I realized that I have the chance to change that. I studied so hard and really spent time reading all my books and reading about our lessons ahead of time. All the late nights paid off because my marks were outstanding and some, almost perfect. It was very hard in the beginning though because I had a 1 year old baby I need to take care of plus I have to study so it was a bit challenging for me. In the end though, everything was worth it because I had my professor's best recommendation and I had really great marks and my attendance was close to perfect. I was even sent to do my practical training at the Queensway Carleton Hospital and was given an outstanding review when I was finished, saying I was one of the best students they've ever had the pleasure of working with.
Days after I finished my practical placement back in December 23, 2015, I immediately applied to a few medical centres and sent resumes everywhere. I even went to the clinics personally and dropped my resume off. Luck wasn't on my side that time because I never got any responses back. I was so frustrated and decided to ask my professor Holly for help and she kindly gave me a few names to contact and places where I can send my resume. After some time, I had a few interviews which resulted to me not getting the job and got even more frustrated with myself and I was ready to just take any job that I can out of desperation. Luckily, I got a phone call from Findlay Creek Medical Centre which I applied a month earlier and I was scheduled for an interview with the clinic manager and one of the supervisors and was lucky enough to be hired the same day! 
4 months later, I am still working for them and the 10 GPs that they have in their clinic. I am getting all the hands on experience that I have always wanted and I am enjoying my time working with patients which has always been my favourite part of being a medical secretary. I know I have made the best choice in choosing Algonquin Careers Academy and I will forever be grateful for the education I had and the best professor in Holly, who's always ready to lend a hand whenever we need it."
Nikoleina talks a lot about "luck" in her description but clearly there was much more to it than luck. She put a lot of effort into her MOA program, her job search, her work life and her family. All of this has paid off. Nikoleina was awarded throughout her program for Perfect Attendance, Academic Achievement and Student of the Month and as well, at her graduation in April 2016, for the Highest Achieving Average in the MOA group.
Nikoleina still keeps in touch with her classmates at ACA. If they can't get together because of their busy lives, they connect via Facebook.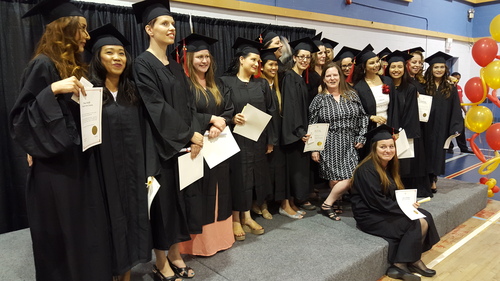 Nikoleina's words of wisdom – Strive hard and believe in yourself. For her, she was not the best student prior to this (average student) but she was getting top marks in her program at Algonquin Careers Academy. If you put your mind to something you really want to do, you will be successful. Find out what it is that you really want - if you are not passionate and happy with what you are doing, you will not perform well. You have to put your heart and prayers in it. Nikoleina really wanted to work in the healthcare field and was inspired to do this for her family.
To find out more about the Medical Office Assistant diploma program: http://www.algonquinacademy.com/programs/healthcare/medicalofficeassistant