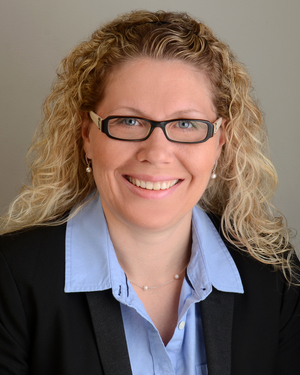 Congratulations to Christal Côté for being an awesome student and graduate of ACA! We have presented her with our Graduate of the Quarter award for the Spring 2017. Christal graduated in 2013 with her Paralegal diploma. She wrote her LSUC exams and became a licensed paralegal that same year. Christal is currently the Senior Grievance & Arbitration Officer for Carleton University Academic Staff Association (CUASA).
How did she get there?
Christal left home when she was 17 to start a career as  a naval officer in the Canadian Armed Forces. In 2003, she then moved into the Federal Public Service where she realized, after having worked in various departments including human resources, that she was more of an employee advocate than anything else. When she moved to Ontario, she volunteered for her union as Chief Shop Steward for several years while working. Christal liked conflict resolution and trained as a mediator in advanced negotiations. She became a Qualified Mediator in 2011. She applied for a position with the Public Service Alliance of Canada (PSAC) in Ottawa and was delighted that her volunteer work in grievance presentation had paid off. She was hired. The position at PSAC did not call for a legal background and she started working there June 2012. After two months, she noticed that all the others in the group were lawyers even though it was an exempted position and they were able to provide better service because of their training. She loved the work and felt that she should get some legal training as well.
Christal decided to look into the licensed Paralegal process. She knew that with her family, she could not take three years off for law school and risk an unpaid article. She also did not want to work in all areas of law, just human rights and labour law, which she learned was in the scope of practice for licensed paralegals.
One Thursday after she left work, she did some research, found ACA, walked in on Friday and told them that she needed to become a Licensed Paralegal to be better at her work and meet her professional goals. As a mature student with a Bachelor degree from the University of Manitoba, she easily met the requirements. Luckily there was an evening class starting on Tuesday, and Christal signed up.
It all happened so quickly that there was no textbook for her when she started. Her first course was Administrative Boards and Tribunals, which was exactly her current work. Carrie, her instructor, was tough on her and had high expectations because of Christal's knowledge and experience in the area. Carrie put her through her paces during the Administrative Boards and Tribunals module, reminding Christal that the most important lesson to be learned was never to assume you know everything about the law and that there is always more to research. Christal took that valuable lesson to heart and has never forgotten it.
Christal knew that conflict resolution was something she enjoyed. She had fallen in love with the work: negotiations, conflict resolution, mediation and now needed the legal credentials to catch up with her experience and Qualified Mediator designation. The only time she ever missed class was when she was representing at arbitration. It was the best time in her career to take it.
She was getting theory from textbook to support what she was doing at work. And with her work experience she was able to provide additional real life scenarios to bring things to life in the classroom.
Licensed Paralegals Were New at the Time
The section of the union where she worked was highly regarded and reputable with some of the best labour lawyers on staff. This group took a keen interest in her Paralegal program, because she was taking it while working with them. There was no "us versus them" (Lawyers v Paralegals) effect – it was a matter of competency. The section supported her while she worked on her diploma and were nervous for her when she went to Toronto to write her exams. She got a lot of support and mentoring from her legal peers. She had fun taking the Paralegal program at ACA and it was a very positive experience. Christal was the first Licensed Paralegal to be in that section and in the area of labour law. She was a first for the large unions.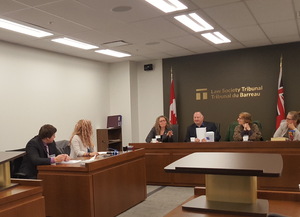 Christal has been a guest panelist at a national conference for the Canadian Association of University Teachers (the only paralegal on the panel), a judge at the Osgoode Mooting Cup and a judge at the Paralegal Cup. She is doing her bit to inform the legal and other communities within Canada of the capabilities of licensed Paralegals.
Also, Christal is one of four ACA graduates who founded the free meetup group for paralegals called The P1 Exchange. It is the only paralegal exclusive group in Ottawa and is now 58 strong after starting with four only two years ago. 
Christal and ACA
Christal was a very motivated student. She had two children when she started school and one was on the way while she was studying. On top of that, she is the wife of a military officer who had a busy career and was posted. She had a career and worked full time, with a full caseload at her job during the day, and the Paralegal program at night and some weekends.
She took full advantage of the fact that she had some pretty high caliber instructors in front of her at ACA. She would argue with them for the challenge, make her case, not just for the sake of arguing but to get an in-depth understanding of what she would face opposing experienced legal professionals. "The classroom at ACA is not just four walls - it is four walls within which is real life simulation." The Paralegal textbooks are designed for practical application and information about what will make the case for your client.
Christal's education has served her well and she would be the first one to say that the education she got from ACA was stellar. She is at a level professionally that rivals that of lawyers and she is proud of the fact that she was able to achieve this at the guiding hand of two instructors at the college level – Carrie and Anne.
Christal Now
In 2015, Christal applied for the position of Senior Grievance and Arbitration Officer at Carleton University Academic Staff Association, competed and came out on top.. This union represents all the faculty professors, instructors and librarians at Carleton University. Every one of them asks about her legal training at ACA and they have some great conversations about the Paralegal profession. Her "clients" are quite content with the fact that she has had focused and intense training. The Paralegal program is not the traditional academic style for post secondary but is hands on, applied and allows you to do your job effectively when you graduate.
Labour law is the culmination of criminal and tort law – it is not considered simple but a complex area of law that pulls from many practice areas. All the modules from the Paralegal program are relevant – even Immigration Law has come in handy.
Christal's world is not a court world but a tribunal world – Ontario Labour Relations Board, WSIB, the Human Rights Tribunal and private grievance arbitration. She spends 99% of her time in grievance arbitration. Because every case is different, she must be up to date with what is going on in all areas. She has handled more cases than she can count, all of which had her clients' careers or quality of life hanging in balance. Christal's education and experience has served her clients well. With the right education, she did not completely change her career aspirations but instead was able to redesign her career track to meet her goals.
Christal's Words of Wisdom
Christal feels that there is all the time in the world for your education if you will only make the time for that education. Volunteering has no limits - take it however far you want to go. It helped her to get to the senior level where she is today.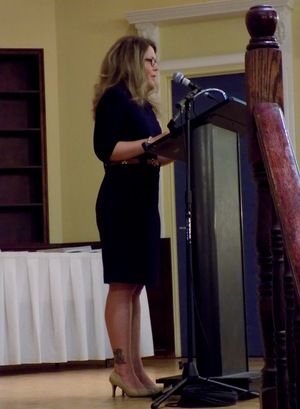 Christal was recently our guest speaker for the Ottawa Graduation 2017 - her involvement with ACA continues!
For more information about our Paralegal program, http://www.algonquinacademy.com/programs/law/paralegal