OTTAWA GRADUATE OF THE QUARTER – WINTER 2017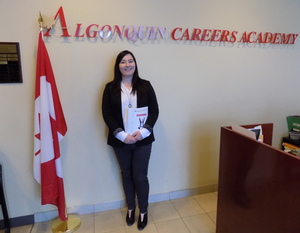 Congratulations to our very own Sarah Villeneuve who we selected as our Grad of the Quarter for the Ottawa campus. Sarah graduated from our Medical Office Assistant program in October 2008. Shortly after she graduated, we called Sarah to fill in as a receptionist for a two-week medical leave and the rest is history! Today Sarah is the Director of the Ottawa Campus of Algonquin Careers Academy. In eight years she has come a long way baby!
A Bit about Sarah
Sarah had been working in childcare for 3 years full time at a day care and also as a live out nanny when she was referred to Algonquin Careers Academy by a friend and fellow employee who took the PSW program at ACA. Sarah decided she wanted to try something different and was interested in the medical field – she was thinking PSW but because she gets so emotionally attached to people, she felt that Medical Office Assistant was a better choice for her. She and a friend scheduled an appointment and went to see Pat (our admissions rep at the time). The two of them signed up that day and Sarah and her friend started in the Medical Office Assistant program in April 2008.
Overcoming Challenges
2008 was a challenging year for Sarah. She lost her Dad prior to starting school, her grandfather shortly after starting and her car just before the end of her placement.
Her first exam was in Anatomy and she was so stressed out that she failed it with a 69%. She was devastated and did not know if she could do it. This failure made her second-guess her decision. When she spoke with other friends in the class, she found that they also got low grades. The teacher was helpful and explained that everyone struggles starting off in Anatomy.
She had to drive a long distance to class every day and a long way home. She drove with three others and it was a wearing drive. However, despite the distance, she was rarely late.
Sarah persevered through the various hardships that year and completed her diploma. She graduated with honours, a 93% average and a new car courtesy of her mother so that Sarah could finish her placement! It is all about support.
Fun Facts about Sarah's Placement
Sarah who was always interested in the medical field ended up in a dental office for her placement. She was at Marchwood Dental with Dr. William Henry. As it turned out, Dr. Henry was the dentist for the Ottawa Senators and Sarah had the opportunity to meet some of the hockey team.
One day on her placement, the power went out and Sarah had to manually close for the day because no one else knew how. Sarah had learned it in class even though the students thought it was a waste of time with all the computerization now.
Sarah did not get hired at the dental office as they were fully staffed at the time but they did call her a year later and offered her a job.
Sarah and ACA
Sarah started work on January 20, 2009 at ACA with what was supposed to be a two-week medical coverage which turned into 2 months and then extended further. She started as the receptionist and in 2010 was promoted to Financial Aid Administrator/Registrar. She was in this role from 2010 to 2013 when she went on a medical leave for a year. Sarah then worked at Centrum Dental Office and at Willis College which were both closer to home.
Despite the long commute, she decided to come back to ACA because she missed our caring school environment. She likes the family feel of it, the way the staff and instructors know the students' names and how together they make it a welcoming environment. Sarah came back as Registrar in June 2014, was promoted to Assistant Manager, December 2015 and to Director, November 2016 – a meteoric rise!
Best Thing about Sarah's Job
Sarah loves it at ACA with all the people she meets. She is from a small town and was not used to the diversity. When Sarah was a student, one of the things she loved was being in class with people of so many different backgrounds. And she gets to continue this by working at ACA. Sarah has learned a lot about different cultures, nationalities, and people.
Sarah also loves watching and being part of the journey students embark on from the time they first walk in the door.  Just recently, a prospective student was afraid to write the admissions tests – this woman was scared and crying before writing them but it turned out that she did very well. By the time she was finished the process she was crying with happiness and hugging the staff. This kind of thing makes ACA a great place to work.
Sarah loves the team here in Ottawa as well as the people at the Mississauga campus. She can always get help from Rebecca, the Director in Mississauga, if she has any questions.
Words of Wwisdom for Others
Take it day by day and don't be afraid to reach out for help and support. Everything will get better and work out.
Sarah's Plans
Sarah's plans are to stay and grow with ACA over the next many years. She is currently driving an hour every day to work and back – that indicates how much she loves it here. However, she is looking to move closer to the school.
Sarah used to be so shy that she could hardly speak. Working at ACA has made her grow a lot as a person and now she regularly speaks in front of the classes. She is looking to continue her personal and professional growth.
For more information about the Medical Office Assistant diploma program at ACA, click on this link: http://www.algonquinacademy.com/programs/healthcare/medicalofficeassistant
Des Says
"Sarah has a natural way with people. She is empathetic with our students and whether it is a day care issue, study anxiety or yet another OSAP demand for a form, she helps students through anything and everything. Her people skills, positive attitude and desire to learn make her an exceptional leader for the Ottawa team. I am so proud to see our graduates grow and prosper!"
For more information about the Medical Office Assistant diploma program at ACA, click on this link: http://www.algonquinacademy.com/programs/healthcare/medicalofficeassistant​
The blogger, Mary Soye, is an owner of Algonquin Careers Academy and, among other things, handles the social media for the college.