The Rio Brazil Olympic Drug-Testing Lab would not have had its accreditation suspended if our Christine had been running it and our graduates doing the work!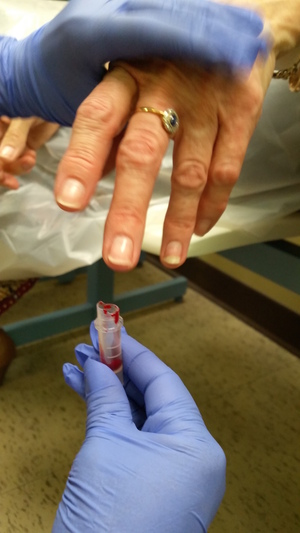 Our Mississauga Medical Laboratory Assistant/Technician diploma program students are doing regular, artificial and human arm phlebotomy as well as capillary puncture.
Christine explains Capillary Puncture and its usages.
Capillary Puncture
Capillary puncture is a procedure where a small amount of blood is collected from the fingertip of the third or fourth finger of the non-dominant hand. The method used requires a lancet. The blood is collected into a small plastic tube called a microcollection tube or a "bullet". The bullets are all colour coded to match the regular phlebotomy tubes and have the same chemicals (anticoagulants) in them.
Newborns
A capillary puncture on a newborn is collected from the heel. It is the standard method for blood collection on all neonates to screen for specific diseases after birth.
Other Usages for Capillary Puncture
As far as adults are concerned, a microcollection may be requested by the doctor when only one blood test is required on a frequent basis. It is also used on geriatric patients and those who are at risk or the formation of thrombosis (clot formation) from standard phlebotomy.
Maybe in the future, some of our Medical Laboratory grads will work at Olympic blood and urine testing laboratories to help deal with doping issues in international sports.
If you are interested in finding out more about our Medical Laboratory Assistant/Technician diploma program, go to:
http://www.algonquinacademy.com/programs/healthcare/medicallabassistant
Christine Gregory is a Medical Laboratory Technologist who has been the lead Medical Laboratory Assistant/Technician instructor at Algonquin Careers Academy for 25 years. She has is patient, knowledgeable and has a knack for getting the point across. Christine is well-loved by her students as is evident from the loud cheers at graduation.