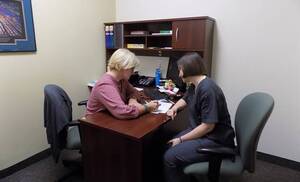 You've closed the book on your final exam and now you wait for the employers to start banging on your door...
Still waiting?
You've got the education (your college diploma from Algonquin Careers Academy) and practiced the skills, but no one knows you're out there!
Well, let's get you noticed!
STEP ONE IN THE JOB SEARCH - RESEARCH ROLES AND CREATE A RELEVANT RESUME
First, start searching through the job postings. What are they looking for? Not just the technical skills, but what personal qualities are important in this new role? You will find that as you search through multiple postings that there are traits that keep repeating themselves; keywords/phrases such as; strong interpersonal skills, able to work independently, highly organized, etc. If these are qualities that you possess and can give strong examples of in an interview, then make sure they are highlighted on your resume! Make your past experience relatable to your new career by focusing on the skills that you have exhibited in past jobs that are relevant to the role that you are applying for.
STEP TWO IN THE JOB SEARCH - RESEARCH THE JOB MARKET AND APPLY
Once you have a concise, professional resume that is tailored to your new career, how do you get it into the hands of a potential employer? More importantly, who is your potential employer? Do your research. What types of jobs are available in your field, and what companies have these positions in their employ? Are these companies you even want to work for? You would never buy a car from a newspaper ad without driving it, or a house without walking through the doors. Why would you apply for a job, a career, in a company you know nothing about! Learn about the company and then send them your cover letter and resume.
STEP THREE IN YOUR JOB SEARCH - PREPARE FOR YOUR INTERVIEW
Now that you have the interview, use the research you did on the company to help you formulate and strengthen your answers. What is their Vision and Mission statement? This tells you what the company values most. How long have they been in business? Are you going to grow with a new company or become part of an established business? What do they do/who are their clients? You should understand what the company does, not just what your responsibilities will be. Knowing the answers to these types of questions will help you tailor your responses and will show your potential employer that you have invested in this interview.
Now you can wait...
And hopefully this time there will be a knock on your door!
Kerry Kershaw is an Employment Counsellor at Algonquin Careers Academy. From a past life, she has considerable experience in hiring employees. Any of our students or graduates who are looking for their next career opportunity should call Kerry Kershaw at the Ottawa Campus or Roxanne Armstrong at the Mississauga Campus. We will always be there for you!
For more information about our Careers Services, go to: https://www.algonquinacademy.com/careerservices/forStudents