Our Intra Oral Dental Assisting (IODA) students have great things to say about our program, college, instructors and staff. Thank you for the wonderful feedback - you have made our days!
"The school is well run with a focus on "hands-on" learning.  Instructor was fantastic.   Can't wait to start my new career."
"Very interesting program.  I enjoyed the knowledge and practice.  Very good administration and wonderful instructors."
"I have had a wonderful experience at Algonquin Careers Academy.  I got an opportunity to meet new friends, mainly my Instructor Batool Ali.  I feel blessed to have an Instructor like her.  She always helped me whenever I needed, connected with me whenever I was wrong, guide me as I was her daughter.  As a result, I successfully finished this Intraoral Program.  I may forget what you taught me, but I will never forget you.  I owe my success to you.  Heart full of thanks for whatever you did for me."
"On a daily basis students and staff make me feel welcome and excite me to come to school.  My IODA teacher, Rebekah, is extremely encouraging.  Rebekah has given us the knowledge and confidence to already be volunteering at local dental practice due to Rebekah.  I have no doubt I will be a successful dental assistant. Morning after morning Dorothy greets each student by name without hesitation.  It is obvious she is happy with her job and that she cares about student well-being."
"Love my instructor, well run program, everyone is so good.  Excited to start my new career."
"I have such an amazing experience with the school, staff, teachers and classmates this past year.  It involved some great teamwork and team members' participation that added to my pleasant adventure and my year enjoyable and successful.  Like a flash, this year has ended, which I don't think anyone can believe. Mainly, my teacher Batool, who started teaching a bit later than the beginning.  She adapted to the needs of our class and helped us out as much as she could along the way.  She is an extraordinary person who doesn't hesitate to answer questions presented by the class in the best and clearest way possible.  She has unlimited knowledge of the subject she is teaching, Intra Oral Dental Assisting.  She is a very open-minded person and doesn't delay helping out her students, whether it is during class time, before, or after, she is always there whenever you need her.  Hats off to the school management team who did an incredible job for hiring such a wonderful individual as a teacher.  I like the way how the school encourages students to try harder and achieve their success at their very best and to the fullest of their capability by granting awards in different areas every month."
"I find Algonquin Careers Academy as a citadel of learning.  It's strategically located in a very quiet environment.  I have always been in the financial sector and changing career to become a dental assistant was all new to me.  I thank the Student Advisor (Rima El-Zoor) who guided me and told me beautiful and wonderful things about the program; and there has never been a dull moment doing it. For my instructor, Rebekah M, she is the best instructor anyone can ever have/ask for. How I wished she was my instructor during my first and second degrees!  She is simply the "best".  She is very amiable, willing and ready to assist anyone and surely knows how to teach and impart knowledge.  I will recommend Algonquin Careers Academy any day and any time to anyone!"
"Rebekah M is absolutely amazing!  Her teaching methods, patience, hands on methods are beyond compare.  She is an extreme asset to this course and I will hate to say goodbye when I graduate. I have loved taking this course, even though it's a very impact with so much information at once since it's compacted (it can be very overwhelming at times).  But the hands-on experience and small personal classrooms make a big difference in being able to absorb information and ask questions.  Roanne was also a big help to get situated and comfortable in our new environment when starting this course.  She made us all feel at home."
"In Algonquin Careers Academy I'm having the best experience.  It's a really good college, the teachers and staff are very welcoming, always happy to help if we need anything.  Keep up the good work!"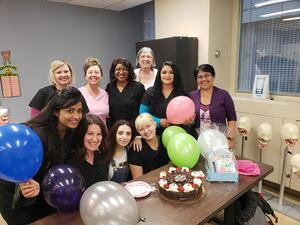 Pictured here are the morning IODA students celebrating a birthday with their classmates, instructors and Dorothy – it is great to see the camaraderie that builds up in the classroom as the students progress through their programs.
Our next class of Intra Oral Dental Assisting starts on August 26 in the afternoon at the Ottawa Albert Street Campus. Phone Rima or Sean (613.722.7811) for more information about this program. Limited spots are available. 
http://algonquinacademy.com/programs/healthcare/dental-assisting