Congratulations to both Sharry and Jovilyn Verde our Graduates of the Quarter for the Spring 2018! This husband and wife team, originally from the Philippines, emigrated to Canada at different times, had a baby, and both took their Personal Support Worker certificates at Algonquin Careers Academy's Ottawa Campus. Sharry graduated in May 2016 and Jovilyn in 2017. Both are successful in their chosen field of Personal Support Worker. And their now 3 year old daughter, Shian, will be going to kindergarten in September.
Before ACA
Jovilyn had left the Philippines to work in Hong Kong as a domestic helper. From there she applied and was accepted to come to Canada where she worked as a Nanny for a family with three children – ages 6, 4 and 2. Sharry worked on ships as a seaman and they communicated via Facebook and Viber. When Jovilyn came to Canada, Sharry had not yet been accepted as a permanent resident. In 2014, they both returned to the Philippines and got married. After this, Jovilyn came back to her job as a Nanny. At this point, she was pregnant and worked through her pregnancy. When she was ready to have her baby, Sharry was still not in Canada. The woman she worked helped out by coaching Jovilyn at the hospital as she delivered her baby. Jovilyn took 2 weeks off work and then went back to work as a Nanny with her baby until her replacement came 5 months later. Shian, their baby, was 8 months old before she got to meet her Dad, Sharry.
Sharry and ACA
Jade, a friend of theirs, had graduated from ACA as a PSW and encouraged Sharry to take the PSW program at ACA. She felt that going to school would result in him getting a better job. So Sharry came to ACA, took the test to get into the school and was accepted into the PSW program. While he was at school, Jovilyn was working, so Sharry looked after Shian during the day. He would meet Jovilyn after her work, at Billings Bridge Mall to transfer the baby to Jovilyn and then go to school from 6 pm to 10 pm. This was a very difficult period of time for both of them but they stuck with it.
After Sharry's Graduation
After graduation, Sharry did not look for work right away as he stayed home to care for Shian. However, when he started looking, he got a job immediately at Carefor, an agency, where he traveled around to different homes and clients. He was hired on as casual but got a lot of hours - almost full time. Richard, another ACA PSW graduate, was working there as well. Jovilyn had made friends with a PSW who worked at The Ottawa General Hospital and they all met up. When the hospital asked its staff if they knew of any PSWs who would want to work at the hospital, this person suggested Sharry and Richard. Both were hired on call. This emphasizes the importance of networking in getting the job you want! Sharry is involved in Point of Care in the hospital - he will help the patients to get up, shower, all POC duties.  He has a buddy nurse and works 8 or 12 hour shifts on all wards and floors. Sometimes Sharry also works at the Ottawa Civic. He really likes his job.
Jovilyn and ACA
Jovilyn then took the PSW program at ACA in the mornings with Ms. Godin. At that time, Sharry was working and their daughter went to daycare when Jovilyn was in school. Her husband often dropped Shian at daycare.
After Jovilyn's Graduation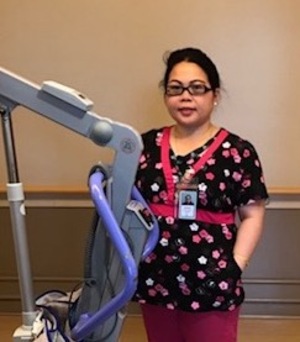 Right away after her clinical, Jovilyn was hired by the Glebe Centre Long Term Care. She was on call for two months and then was hired as permanent part-time and she also was hired at The Perley nursing home on a permanent part-time basis. It is hard work there but Jovilyn likes it – as a permanent part-time hire, she has a HOOP pension. Recently, Jovilyn left the Glebe because she was hired on as casual, on call at The Ottawa General - her orientation took place in June and she has just started. Jovilyn says that the Perley is a good home and that her unit is busy. Jovilyn feels she was trained well by ACA and ready for the work she is now doing. She also grew up used to hard work and that helps her in her current role as a PSW.
Words of Wisdom
Jovilyn feels that sacrifice and hard work will lead to a good future. Some people would question, why go to school? Just go and find a job. They would try to discourage them from further education. But once they had their PSW certificate it was easy to find a job. Yes, the job is demanding and they work hard but they earn a lot more than they would with a minimum wage as cleaners. They can save money. It is better to go to school to get a better salary. Don't give up when things get hard, keep trying. Jovilyn adds "To God Be Glory".
We thank Jovilyn and Sharry for choosing ACA for their Personal Support Worker program and are very proud of their success as PSWs!
To find out more about our PSW program:  http://algonquinacademy.com/programs/healthcare/personalsupportworker or call the school and ask to speak with an Admissions Advisor: MISSISSAUGA | 905.361.2380  OTTAWA | 613.722.7811