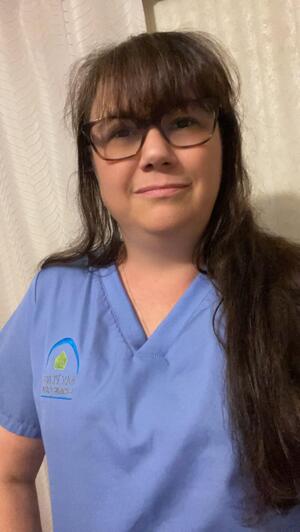 Personal support workers function as healthcare professionals that help the elderly and those living with various disabilities to complete daily tasks. In addition to tasks like meal preparation, cleaning, and providing transportation, personal support workers provide essential emotional support and companionship to their clients. If you're a caring, empathetic individual looking for a career with meaning, PSW training could be the perfect starting point for your career.
When you're weighing your options, it's important to hear about the first-hand experiences of those who have succeeded in your field of interest. You can gain insight into the suitability of the path you're considering, pick up helpful tips for success, and gain inspiration. Here at ACA, we are consistently impressed with the excellence of our graduates and we love to reflect on their achievements. Today, we discover the story of Kim DiPietro, a recent PSW graduate who used her gifts and desire to help others to pursue a successful career.
Caregiving Is a Valuable Skill That Can Lead To A Rewarding Career
In our discussion with Kim, we learned that she is no stranger to caregiving. A devoted mother, Kim looks back fondly on her years raising a family in British Columbia. She was introduced to caregiving from an early age, drawing inspiration to become a PSW by the strong women in her family. "They all worked, volunteered or were members of a community Irish home and pub (a must for an Irish heritage) called the Good Shepherd in Montreal,Quebec. It's kinda in my blood," she recalls.
Kim's desire to help others also spurred her to action. "COVID caused so much suffering for the world, but especially the most vulnerable in our communities. I knew I could help, be part of the change to help families with their loved ones to receive the basic care, physical, emotional and spiritual care they deserve and I wanted to support." If you have experience as a caregiver, (professional or not) and long for a way to make a positive impact on the lives of those in need, our PSW program could be the perfect fit for you.
Your Can Look Forward To A Dynamic Career After Completing Our PSW Program
After completing personal support worker training, Kim landed a position at an agency called My Place Home Care. She describes her place of work as "A smaller home care based agency that takes pride in ensuring their PSWs bring compassion, integrity and responsibility each and everyday, as we support clients that choose to remain at home for as long as they are able." There, she enjoys a dynamic rewarding position that allows her to perform a variety of helpful tasks. She describes an average work day:
"I am in home care so I travel to my clients home. Morning, afternoon or evening care, housekeeping and laundry. Meal preparation, medication and planned activities like games for memory or looking at family photos.The talks, the walks, exercises, the dancing and singing, the movie that you cry together or laugh even. Reading their favorite book or news. Reminiscing about a lost loved one. The hand massages and feet soaking together, add nail polish maybe? Or just being! No words, sounds, having a nap or engaging in meditation together. You see, it is more than a job, it's being present, engaging and doing what is asked of you when needed by your client."
ACA Supports Student Success In Various Ways
In addition to her natural caregiving abilities and desire to improve the lives of her clients, Kim credits her career satisfaction and success to ACA's holistic instruction style and support from faculty member Anita Comfort. Having difficulty with school as a young one, Kim expressed that returning to school scared her but with the help of her family, her instructor, and her own hard work, she graduated with honors. She recalls our in-depth courses that familiarized her with the aging process, taught the importance of self-care, made her aware of her own mental biases, and empowered her to draw on her rich life experiences to better care for her clients.
Kim's ACA education went even further. She says: "There are people available to assist you with preparing for interviews, writing up resumes and cover letters and job search. Upon completion does not mean they are done, ACA has their door open as long as you need them. You feel like a family member, when you need support they will be there." When asked how she knew that personal support work was the right career choice for her, Kim said: "My heart is full when I am with a client/resident." We wish all of our students the same feeling of certainty and purpose in their careers and strive to help them get there.
 Are you ready to earn your personal support worker diploma?
Contact Algonquin Careers Academy to learn more!