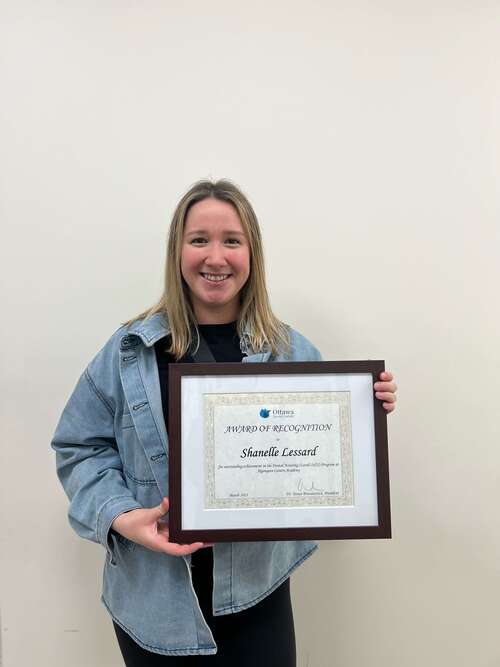 Shanelle Lessard is an inspiring, award-winning example of student success at Algonquin Careers Academy. We recently had the pleasure of discussing her journey through our Intra-Oral Dental Assistant program and where it has taken her. If you're considering a dental assistant career, you may benefit from insights into the experience of a student who chose to invest in their career and excelled with the help of our career-focused program. Keep reading to learn how Shanelle Lessard represents academic excellence at ACA and how you can follow in her footsteps as you work towards a fulfilling career in the dental field.
Shanelle Values Growth In Her Career
Shanelle had plenty of interesting work experience before studying at ACA. She explains, "I was a veterinary assistant before going to school, and there was not much growth in that field–you're just kind of stuck since there was no moving forward in it. " Many workers can relate to a sense that they're stuck in their current careers, which can hinder their motivation and overall job satisfaction over time. Shanelle's open-mindedness allowed her to discover a path that provided the upward mobility she had always desired in a career. She explains, 
"I had been applying for different jobs and saw a post from my family dentist, who I had been with literally since I had teeth. They were hiring, so I thought, I'll try there! I love it there so much, and I've never had an awful experience at the dentist. Honestly, it's like a spa day. I love going to the dentist."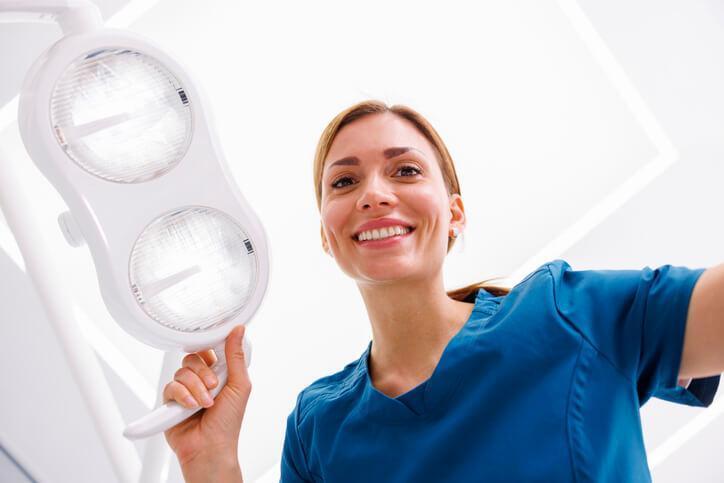 Shanelle's love of the dentist and desire for career growth moved her to start our intra-oral dental assistant program
Though her family dentist wasn't hiring when she began her job search, Shanelle realized that her love of the dentist was unique and concluded that a dental assisting position could be fulfilling. She says, "They [family dentist] kind of motivated me into going to school for it. Because there are so many different things you could do, even just with the dental assistant level two certificate. There's room for growth which is something that I really wanted." So began an educational journey leading Shanelle to exciting new vocational heights.
The Community Culture At Our Career College Helped Shanelle Reach Her Goals
Before enrolling in our Intra-Oral Dental Assistant program, Shanelle had tried a few other paths. She tells us, "I did massage therapy first, but I didn't finish it. Then I went into early childhood education and didn't finish that, either." Something was different about her studies at ACA. Shanelle credits a strong sense of community among her peers. "My classmates were really supportive. We're in a group chat, and we're always talking to each other and helping each other out." That being said, Shanelle's hard work and dedication were the biggest change. She explains, "It was nice to have the support, but a lot of it was just me coming to a realization that I need to do something for me."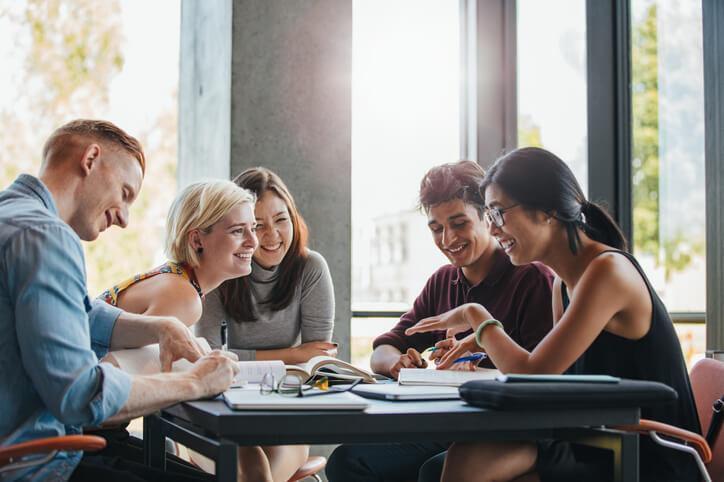 For Shanelle, the support of her peers was a major help through our intra-oral dental assistant program
Shanelle's renewed motivation allowed her to excel academically. Her success led one of her instructors to nominate her for the Ottawa Dental Society Award, which she went on to win! She shares the excitement and validation she felt when her instructor broke the news to her. "When I got the call, I wanted to cry. I was super excited. I honestly wasn't expecting it," she recalls. Her excitement would continue when she not only found out she won the award but was hired as a dental assistant at Red Barn, the clinic where she had completed her placement. "I got the placement on the basis that they would hire me right after, which was really nice," she said about her time with Red Barn. They kept their promise, and Shanelle was hired immediately after graduating in March. At ACA, students receive support from their instructors, peers, and organizations where they hone their professional skills.
Shanelle's Advice To You
Shanelle had plenty of helpful pieces of advice to share. "Do what your teacher is telling you. Do the homework, ask questions, and don't feel silly. You're there to learn, so everyone's in the same boat." Shanelle highlights the importance of being well-suited to a dental assisting career and provides a sign that an Intra-Oral Dental Assistant diploma could be perfect for you. "If you're an extroverted social person, it's definitely the job to be doing," she says. Dental assisting is a dynamic career path that puts workers in front of people from all backgrounds and of all ages. In addition, it's rewarding. "You change people's smiles completely, which is super exciting. They may not be feeling confident, and then all of a sudden, you've realigned their teeth or their jaw and now they're smiling the way they've always wanted to smile." 
Choose to do something for yourself as Shanelle did and achieve the growth and success you've been wanting.
Are you ready to begin carving your new path at our career college?
Contact Algonquin Careers Academy to learn how you can get started.