Why taking the Medical Laboratory Assistant/Technician (MLA/T) course is a good idea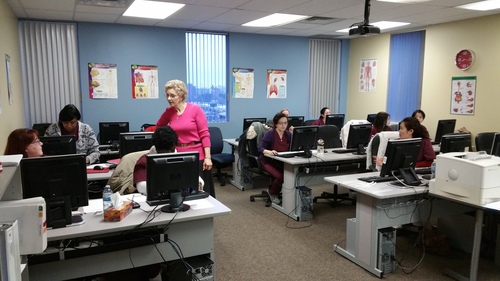 Taking the MLA/T program at Algonquin Careers Academy is great opportunity to learn a lot of  really interesting skills in a short period of time allowing our students to graduate and get working sooner. Because the students work so closely together, many of the students become friends and stay in touch long after the course has finished. This close work also prepares the students for the teamwork that is required in the working world.
Students learn about diseases and how a laboratory is divided into various departments with respect to sample collection and testing. They also learn about tissue biopsies and how they are used to diagnose cancer.
Technical skills include collecting blood from patients, using more than 15 different coloured tubes all with different chemicals inside, performing the lab test to determine a patient's blood group, growing bacteria on a jelly like material called agar and performing urinalysis.
Courses on computer skills,  resume writing and successful interview skills are also included as they are very important to making the transition from the education environment to the workplace.
Each student has a six week placement where he/she is given the opportunity to work as part of a medical team. This allows our students to continue to master working independently and as part of groups. Various medical settings with different duties are used for the placement learning experience. Placement sites include: Brampton Hospital, Sick Kids Hospital, Ross Memorial Hospital in Lindsay, OAHPP Lab in Toronto and Ottawa, Hemostasis Reference Lab in Hamilton, Fertility Clinics, Gamma-Dynacare, Bio-Test, LifeLabs and walk in clinics. Two major outcomes of the placement are learning how to deal with patients in a professional manner and adding the finishing touches to the technical skills already mastered.
Opportunities for employment are numerous including private labs, hospital labs, medical research facilities, government reference labs, walk in clinics, and pharmaceutical clinical trials. Our on campus Employment Counsellors provide our students with a lot of advise as far as job search skills, interviewing skills and resume writing so by the time they go out looking for jobs they are well prepared. Some of our instructors email a list of jobs out to our graduates monthly to keep them up-to-date with what jobs are on the market.
The program has excellent instructors including medical technologists and medical technicians with considerable lab and hospital experience. All of the instructors know how to bring out the best in our students and teach them how to avoid the pitfalls of the job.
To find out more, follow the link to: https://www.algonquinacademy.com/programs/healthcare/medicallabassistant