RAVINDER ATHWAL
Paralegal Program – Mississauga Campus
Licensed Paralegal – Athwal Legal Services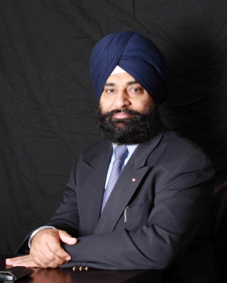 Congratulations to Ravinder Athwal who is our Mississauga Graduate of the Spring 2015 Quarter! Ravinder is a Licensed Paralegal with his own successful practice – Athwal Legal Services. His practice covers motor vehicle accidents, accident benefit claims, slip and falls, small claims court and provincial offences. A businessperson from early on, Ravinder understands how important it is to network in order to be successful. He builds his business through networking, speaking at association meetings, word of mouth from satisfied clients, and attending events where he can meet people and hand out his business card. He never leaves the office without his cards.
Ravinder has lived and worked in multiple countries, growing up in India, moving to Bahrain in the Middle East in 1976, to England in 1978 and on to Canada in 2005. He has his Bachelor of Commerce from Haryana, India; an I.T. Technician diploma from Barnet, UK; and his Paralegal Diploma from Algonquin Careers Academy, Canada. Ravinder has been a store owner, a sales executive, an office manager and now a Paralegal – it seems that all of those prior jobs have led up to and contributed to the success of his Paralegal practice.
Ravinder enjoyed his time at Algonquin Careers Academy and has positive memories of his instructors and the staff. Everyone in the class got on well and some of the students are still in touch. While at ACA, the Paralegal day and evening classes organized a big barbeque that Ravinder hosted.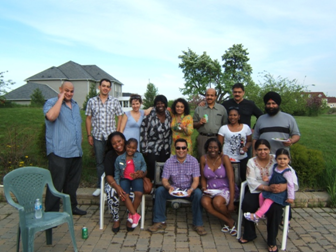 Ravinder has three children who are all successful in their own right. He volunteers in a number of different organizations including the Lions Club, various political campaigns and the Labour Community Services of Peel. Each of these volunteer opportunities has helped him build his resume and his network as well as contributing to the community.
Ravinder's aspirations do not stop here. He continues to aim for bigger and better things such as instructing Paralegal courses and Justice of the Peace.
Ravinder's words of wisdom? Always be open-minded and adaptable to change. Be business minded about your approach to everything. Volunteer in your field while going to school to build your network and your experience. Work hard and smart. Be consistent. Hunger for success. Spread your wings to be successful – diversify your experience.
For further information on Algonquin Careers Academy's Paralegal program, click on the following link:
Paralegal Jobs and Compensation in Ontario
The need for well-trained, competent legal professionals has never been greater.  Paralegals in Ontario now have their own scope of practice and, within these permitted areas, are an affordable option for legal services.
Paralegals may act independently in the representation of clients. Paralegals may represent clients in small claims matters; landlord/tenant matters; matters before all federal and provincial agencies, Boards and Commissions as well as tribunals such as the Landlord Tenant Board and the Workplace Safety and Insurance Board. They may also appear on summary conviction procedure criminal offences.
Paralegals may find employment in a wide variety of workplaces, including:   
Government (Federal, Provincial, Municipal)  
Large Corporations
Self-Employed Paralegal  
Law and Paralegal Firms
Banks/Financial Institutions  
Insurance Companies  
Courts (Federal and Provincial)  
Legal Clinics  
Other Law-Related Occupations   
Paralegal Wage Information
$/hour rate:
| | | |
| --- | --- | --- |
| Low | Median | High |
| $15.50 | $25.00 | $41.21 |
Source: Paralegal and Related Occupations (NOC 4211) Ontario www.jobbank.gc.ca, April 2015
Paralegals who are self-employed have an opportunity to start-up, grow and develop their own business. The ability to network and sell services is key to a successful Paralegal business. Compensation, in this case, depends on the drive and success of the individual.
For further salary and career information regarding Paralegals, click on the following link: