Ottawa Graduate of the Quarter – Summer 2015
Harpreet Kaur
Pharmacy Technician Program – Ottawa Campus
Pharmacy Assistant – Queensway-Carleton Hospital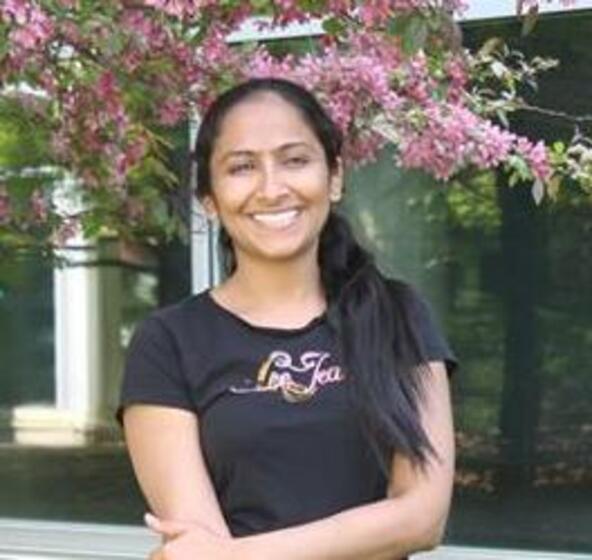 Congratulations to Harpreet Kaur who is our Ottawa Graduate of the Summer 2015 Quarter! Harpreet graduated from our Pharmacy Technician program in 2014, passed the three stages of exams required to register as a Pharmacy Technician in Ontario in 2015 and is now a full time Pharmacy Assistant at Queensway-Carlton Hospital in Ottawa. She will become a Pharmacy Technician when she is registered. Harpreet is internally certified as a Medicine Reconciliation Technician at her hospital. She does PacMed, order entry, and first dose filling shifts. 
Harpreet was a Civil Engineer in India and came to Canada as an international student to do her Masters of Environmental Engineering at Carlton University. Upon graduation, she could not find work in her field in Ontario. She did some research on what jobs were available locally and Pharmacy Technician came up. She found two career colleges that offered the program and decided on ACA because of a referral and how our Admissions Representative treated her. She is very glad that she chose ACA! She had the best time ever - she found everyone very friendly and helpful and her instructors knowledgeable. It was like home, a family environment and she enjoyed going everyday. She loved studying at ACA and it helped her to move on in her life. It was one of the best decisions she has ever made.
While at ACA, Harpreet made the most of it. She was awarded 3 Student of the Month awards, 5 Perfect Attendance awards and 8 Academic Excellence awards. She also did the online course of "inter-professional collaboration for health care providers". When she finished the in-class portion of the program, Harpreet did a four week placement at Shopper's Drug Mart in retail pharmacy followed by a four week placement at Queensway-Carleton for her hospital placement. One week into her placement she was offered a casual position with the hospital. Why? Well her excellent work habits continued on placement – she was hardworking, on time, willing to learn, learned quickly and did the job efficiently. Four months later she was offered full time.
Harpreet found the Ontario College of Pharmacists exams difficult – particularly jurisprudence. However, everything she needed to know for the exams was covered in the courses, in her notes, in the text ("the orange bible") and on the OCP website. The "Mock OSPE's" that she did at ACA prior to the exam also helped. She prepared well and didn't let her nerves get the better of her.
Harpreet's words of wisdom? Believe in yourself and that you can do it. If you are honest and give it 100 percent, there is nothing between you and success.
For further information on Algonquin Careers Academy's Pharmacy Technician program, click on the following link:
Pharmacy Technician - Find Out More!
Pharmacy Technician – Additional Information
To become a Pharmacy Technician, you need to graduate from a CCAPP-accredited Pharmacy Technician program such as that offered by Algonquin Careers Academy.
"Understanding What a Pharmacy Technician Can Do" from the Ontario College of Pharmacists website sums up the role of the Pharmacy Technician versus the role of Pharmacist:
In general terms the division of responsibilities can be defined as:
TECHNICIANS are accountable and responsible for the technical aspects of both new and refill prescriptions, (i.e. the correct patient, drug dosage form/route, dose, doctor) and;
PHARMACISTS remain accountable and responsible for the therapeutic/clinical appropriateness of all new and refill prescriptions and all therapeutic consultation.
A pharmacy technician can ensure that this bottle contains 100 tablets of drug 'x', and that the information on the label including: name of patient, prescriber, drug and directions are correct, as per the prescription.

The pharmacist must have assessed the patient and authorized that drug 'x' is the appropriate medication to take, and counselled the patient on how to take it.
Follow this link to find out more details about what a Pharmacy Technician can do:
http://www.ocpinfo.com/practice-education/practice-tools/support-materials/technician-role/