Ottawa Graduate of the Quarter – Winter 2016
Lorily De Vera
Personal Support Worker Program – Ottawa Campus
Personal Support Worker and Business Owner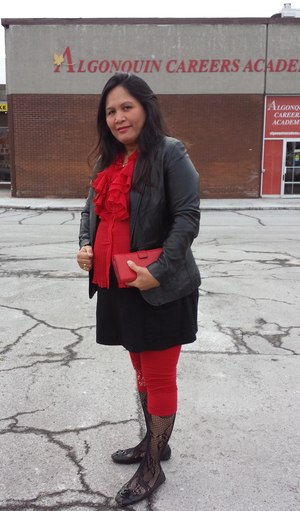 Congratulations to Lorily De Vera (Obiacoro) who is our Ottawa Graduate of the Quarter - Winter 2016! Lorily graduated from our Personal Support Worker program in 2010, passed the NACC exams and was hired on part time as a PSW. The 20 hours per week were not enough so she opened her own business, advertised her services for the elderly and got a lot of work this way. She got so much work that she encouraged others to take the PSW program at ACA so that they could help her fill the jobs. She has helped other Filipinos to get work.
Lorily is from the Philippines and is a graduate in computer science there. She liked the medical field and took a further three-year x-ray technician course. She was a single mom from the time her children were very young. When her daughter was 11 years old in 2004 she started thinking of going abroad to work so that she could afford to pay for her kids to go to University – in the Philippines her salary was not enough to allow for this. She did the mandatory 6 months training course for caregivers to work abroad. She then worked in Taiwan for three years with a lady who had Parkinson's. A neighbour had gone to Canada and encouraged Lorily to do the same. All Lorily knew about Canada was that it was cold. It started as a joke "your dream will come true in Canada". However, she decided to make the move and paid an agent to arrange it. Unfortunately the agent did not arrange it very well. She flew into Vancouver airport in 2008 with immigration papers that were not complete. She had a visa, a job, a letter from her employer but did not have the work visa/permit – immigration at the Vancouver airport told her it was not enough to let her into the country. She was stranded in the Vancouver airport for a day and a night hoping that she would not get sent back to the Philippines. She begged for a chance to call her employer - she had only one dollar in her pocket. She tried contacting her employer but they were in India. She managed to get in touch with a family member who confirmed that Lorily was working for her in-laws. Finally the required work permit was provided and Lorily was allowed to enter Canada and take her flight on to Ottawa. However, with no one to meet her at the airport, she spent her first night at the police station! What a harrowing beginning to her life here in Canada.
Lorily worked for this family for six months and then things changed. She did not have a job and she did not know what she was going to do. Her first year in Canada was empty and dark and she often wanted to go home. She saw the advertisement for the Personal Support Worker program at ACA and went in to find out about the program.  She wrote and passed the entrance exam, paid the down payment and started school. She worked part time in the afternoons to pay for it. She worked hard, feeling that this could be the stepping-stone she needed. Lorily would keep her course notes in her pocket and study whenever she got the opportunity. She never received the monthly academic achievement awards (over 90%) but she did have perfect attendance. Mrs. Godin, her instructor, encouraged her a lot and gave her faith. She was really thankful for all the staff. She can't express just how wonderful the education is that we provide.
In her first week, the class was asked to write down what they wanted to do with their lives. Lorily drew a picture of a family with a father and children and a goal to finish her course and live a good life. Here it is, 5 years later and she has met her husband, had a boy, is currently pregnant with another child and her two children from the Philippines have joined her in Canada. Her drawing came true! You never know what will happen. Lorily's determination to succeed is incredible!
She managed to pay for the education of her two children back in the Philippines – her son took his Nursing degree and her daughter did her degree in Business Marketing. When they came to Canada, she sent them to ACA to enroll. Her son recently graduated as a PSW and is working with The Glebe Centre. Her daughter is taking our Business Management diploma program and will graduate this year. If her children are anything like Lorily, they will be successful in life and do well in Canada.
Lorily's words of wisdom? Lorily stresses how important education is and how the opportunities open up as a result. She encourages people to set a goal higher than their expectations. Together with the school, the staff, and your own hard work, your dreams will come true in the future. Graduation day is not the end of schooling but is the start of a new life.
Being a Certified PSW is really amazing - respect your diploma.  It is all about the compassionate care you can give elders, it is about continuing the life of an elderly person and enjoying what you do. She is currently working full time with a client with health issues - since Lorily came to the house, her client is better, she is eating, and her Alzheimer's has improved.
Lorily feels studying as a PSW was the big change that allowed her to support her kids. It all began with ACA. What started as a joke "your dream will come true in Canada" has become a reality for Lorily.
For further information on Algonquin Careers Academy's Personal Support Worker program, click on the following link: